Travelers visiting Kansas City International Airport will experience the largest public art project in Kansas City history. Artwork from local, regional, and international artists are featured throughout the terminal, parking garage, and concourses. The commissioned artworks range in medium from traditionally framed drawings, paintings and photography to textiles, floor mosaics, ceramics, mixed-media, assemblage, digital and electronic art displays, reliefs and sculptures.
One Percent for Art Program
Kansas City International Airport participates in the City of Kansas City, Missouri's "One Percent for Art" program, stipulating that one percent of public construction costs be set aside for public art enhancements. This program provides a catalyst for artistic growth and aesthetic excellence in the community while enhancing the vitality of Kansas City, enriching the lives of its citizens and visitors. All artworks were approved by the Municipal Art Commission.
For more information about the One Percent for Art program visit www.kcmo.gov/art.
Large Scale Public Artwork
Artwork commissioned for the New Terminal and Parking Garage, installed 2023.
Concourse Artwork
Wall-based artwork by Kansas City regional artists commissioned for the New Terminal concourses, 2022.
Other Public Artwork at MCI
Public artwork commissioned for old terminals, grounds, and Kansas City Aviation Department building.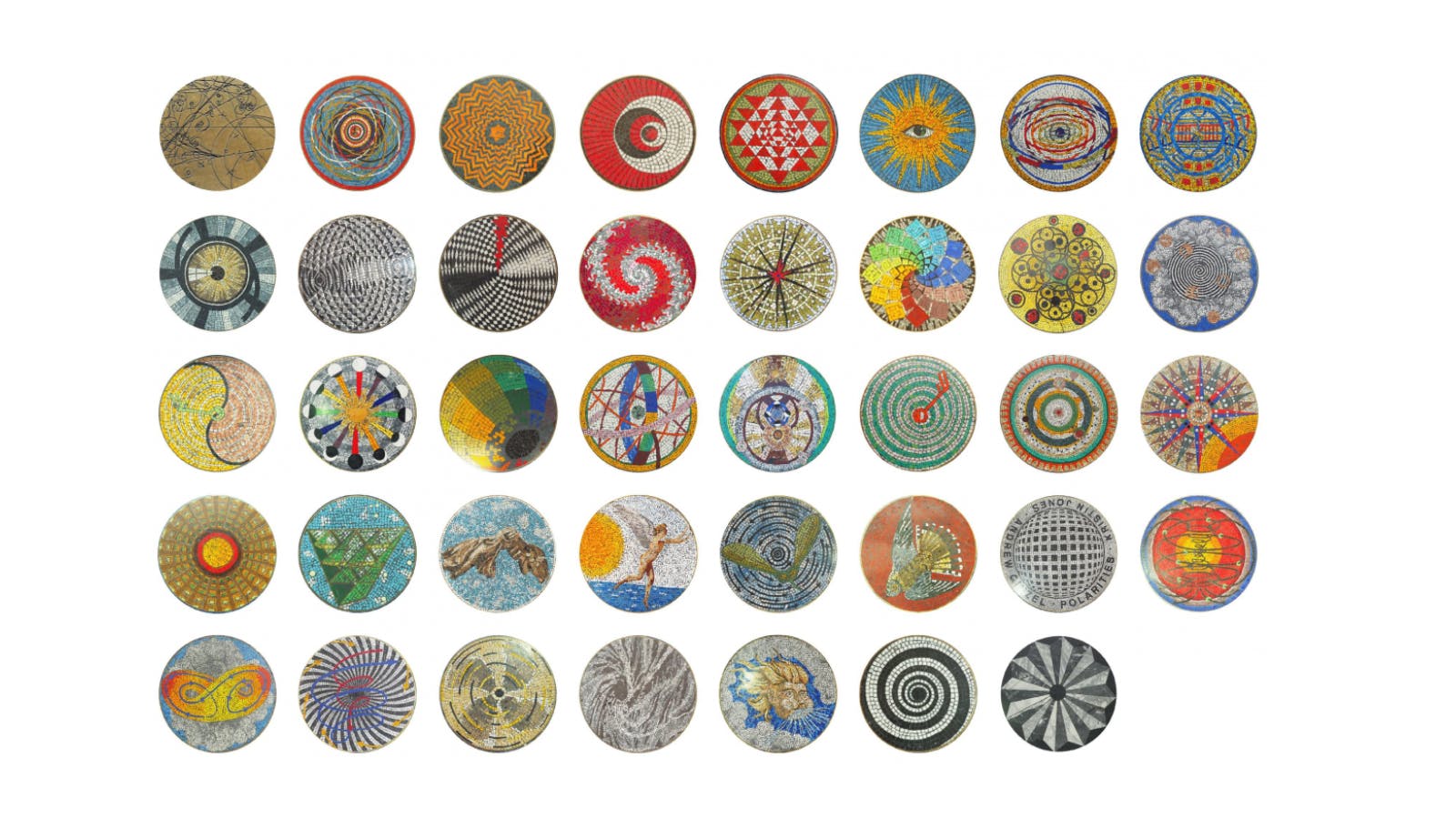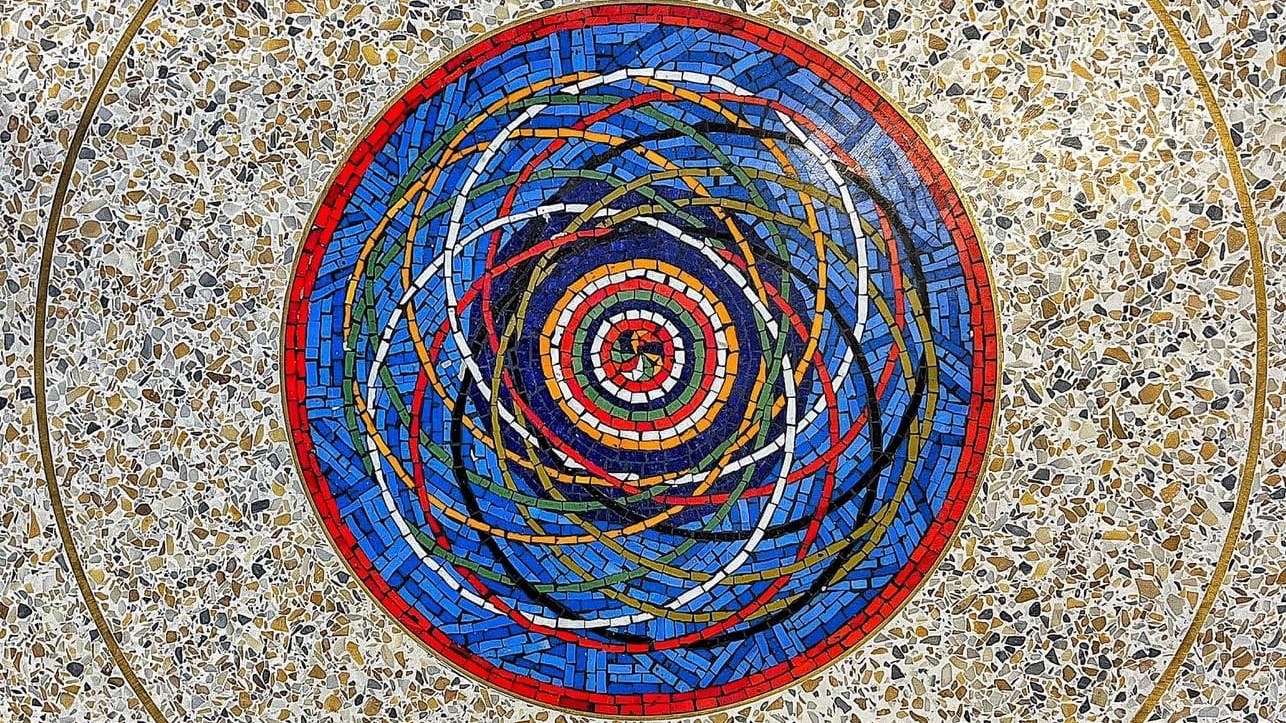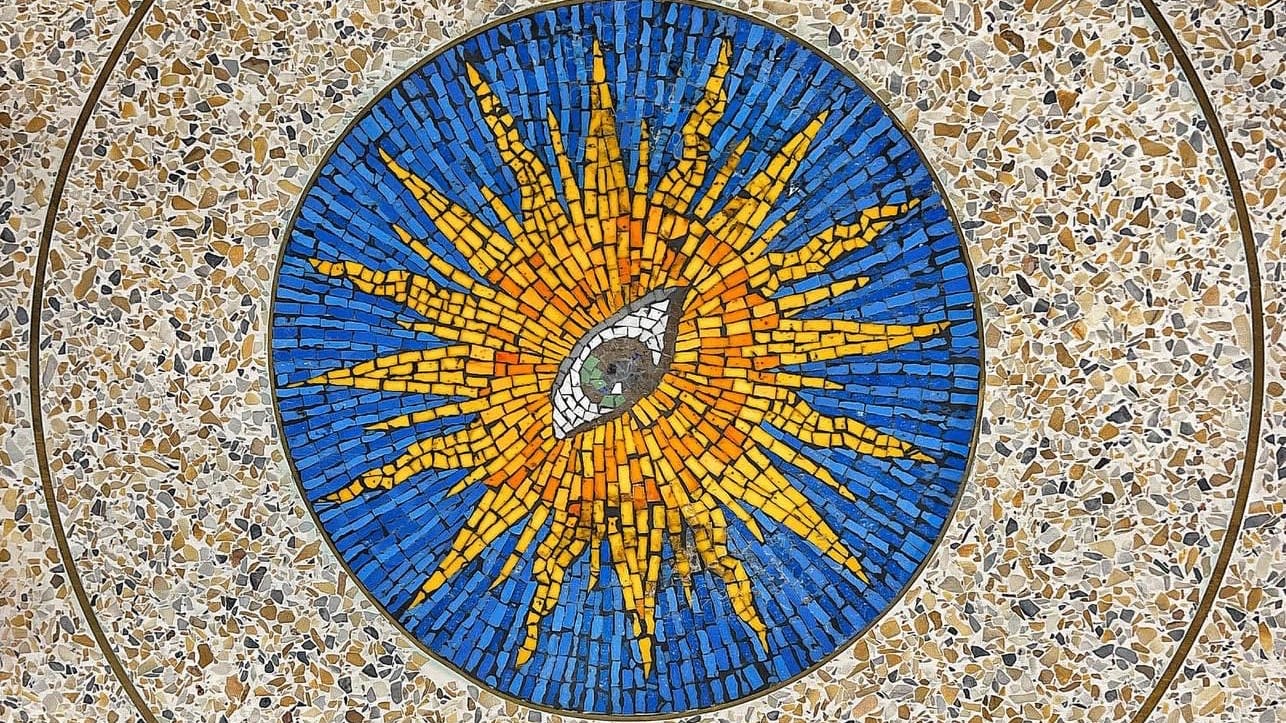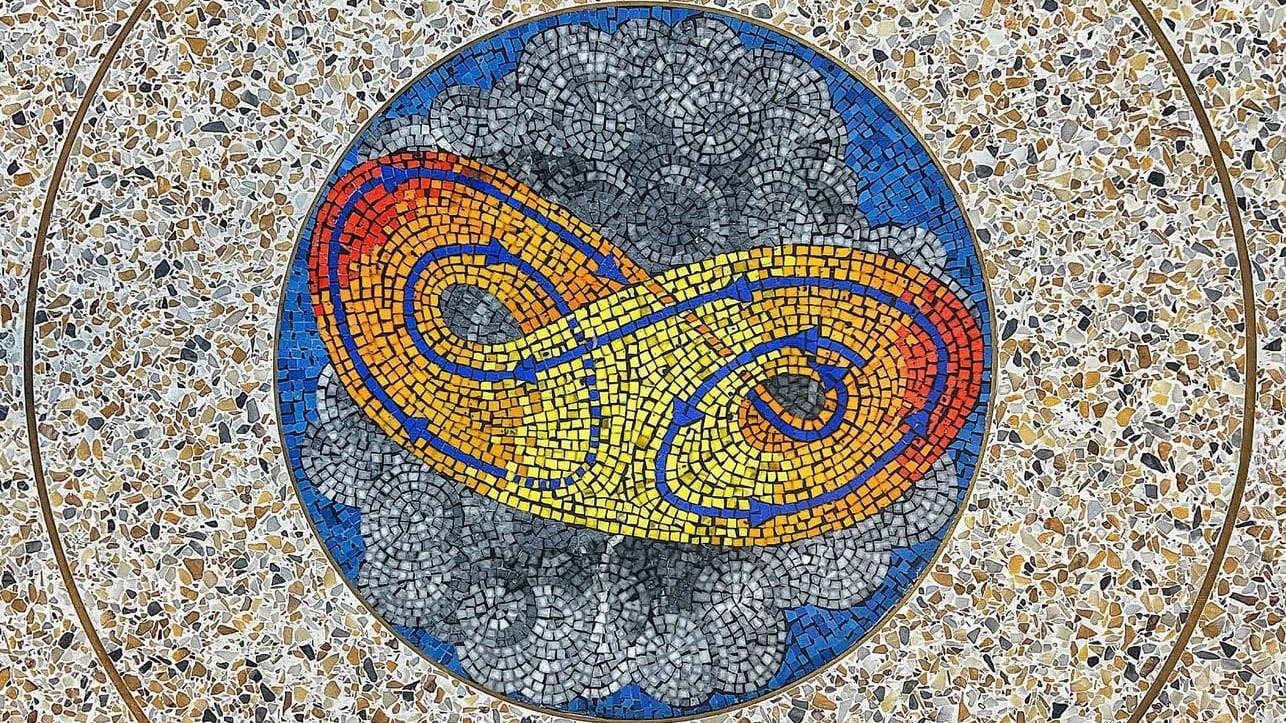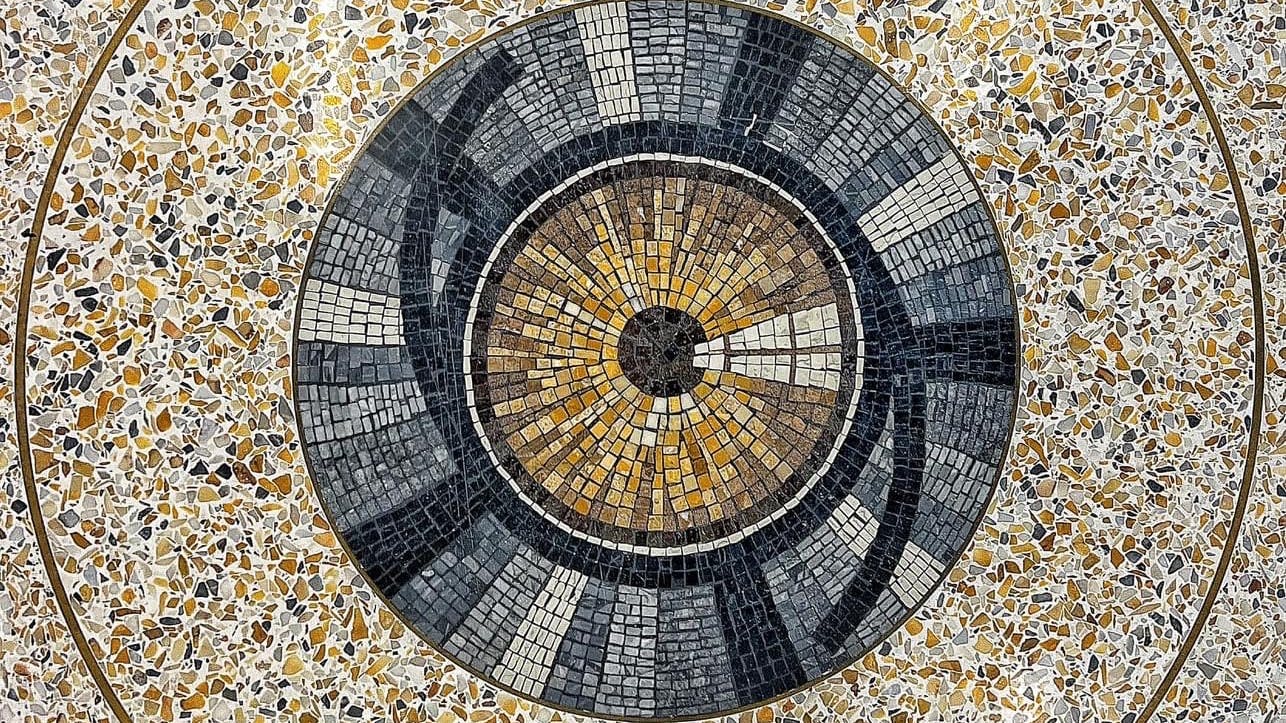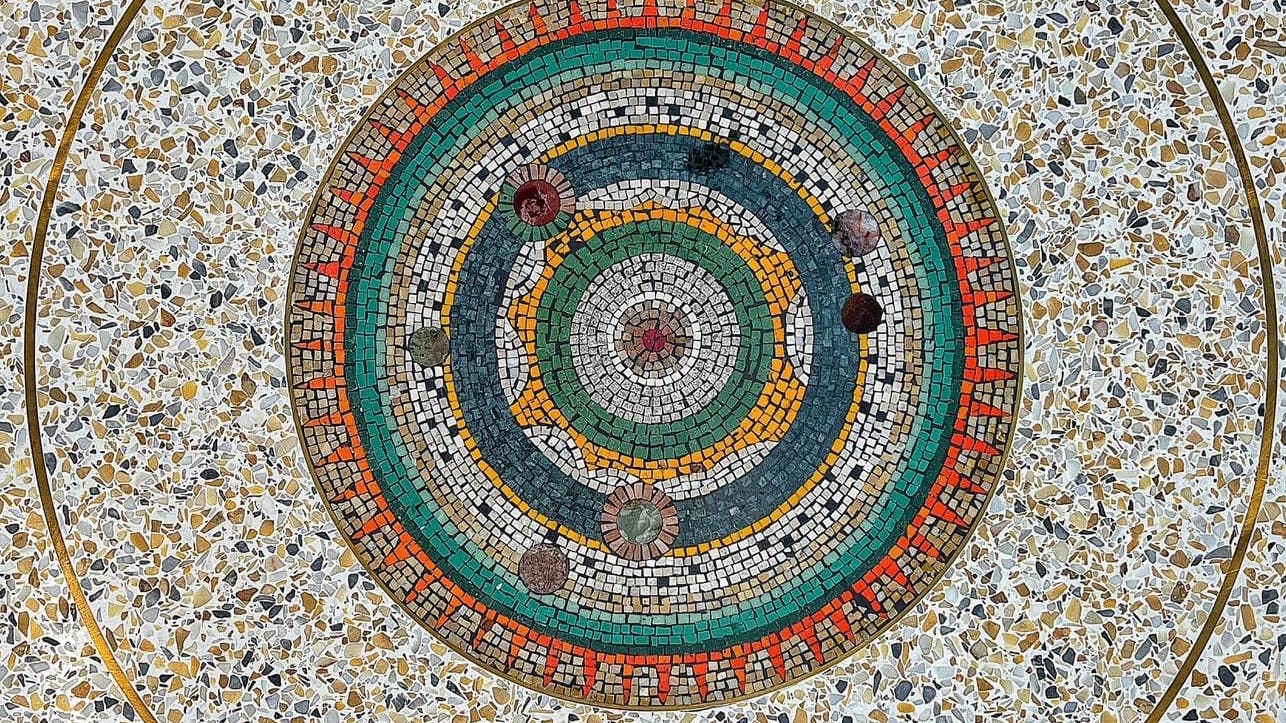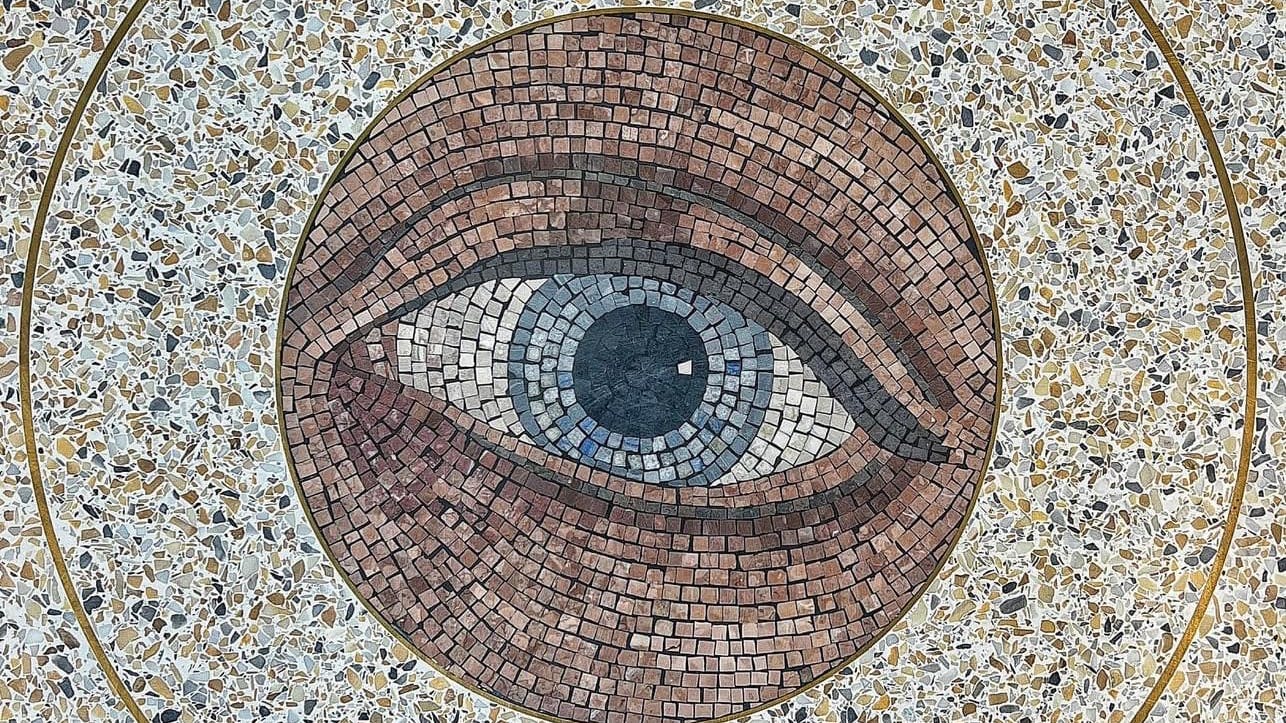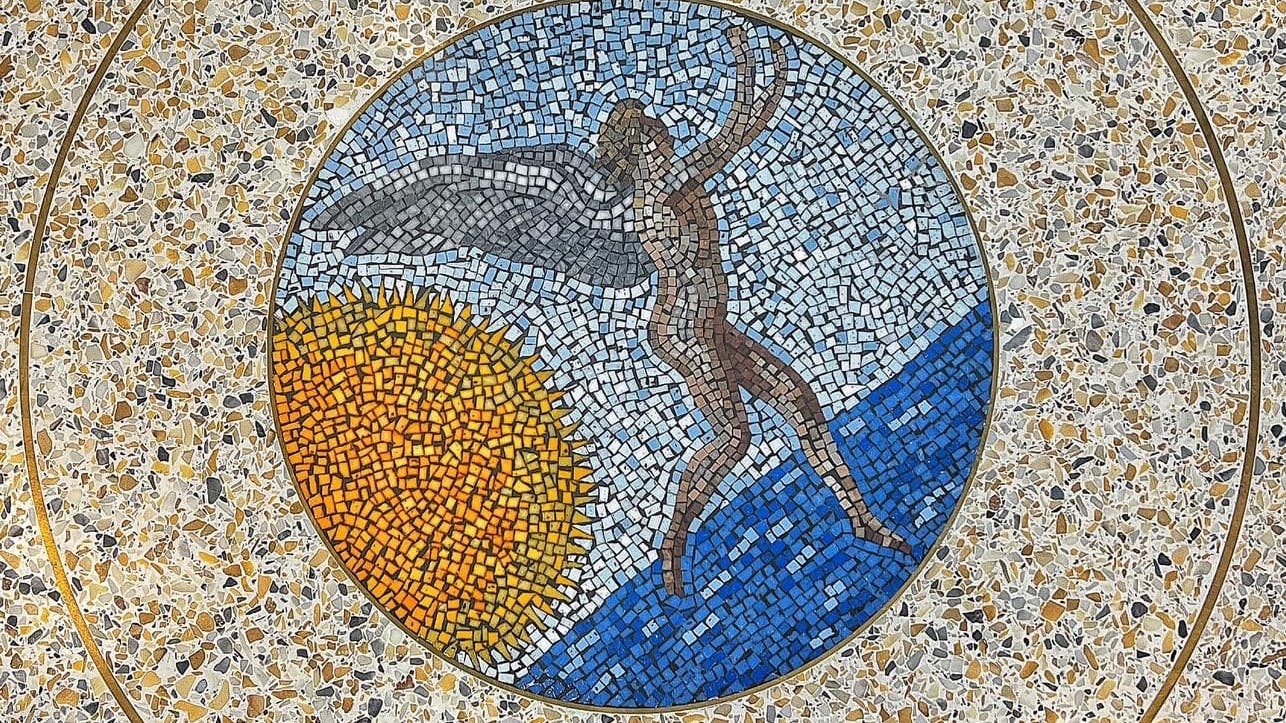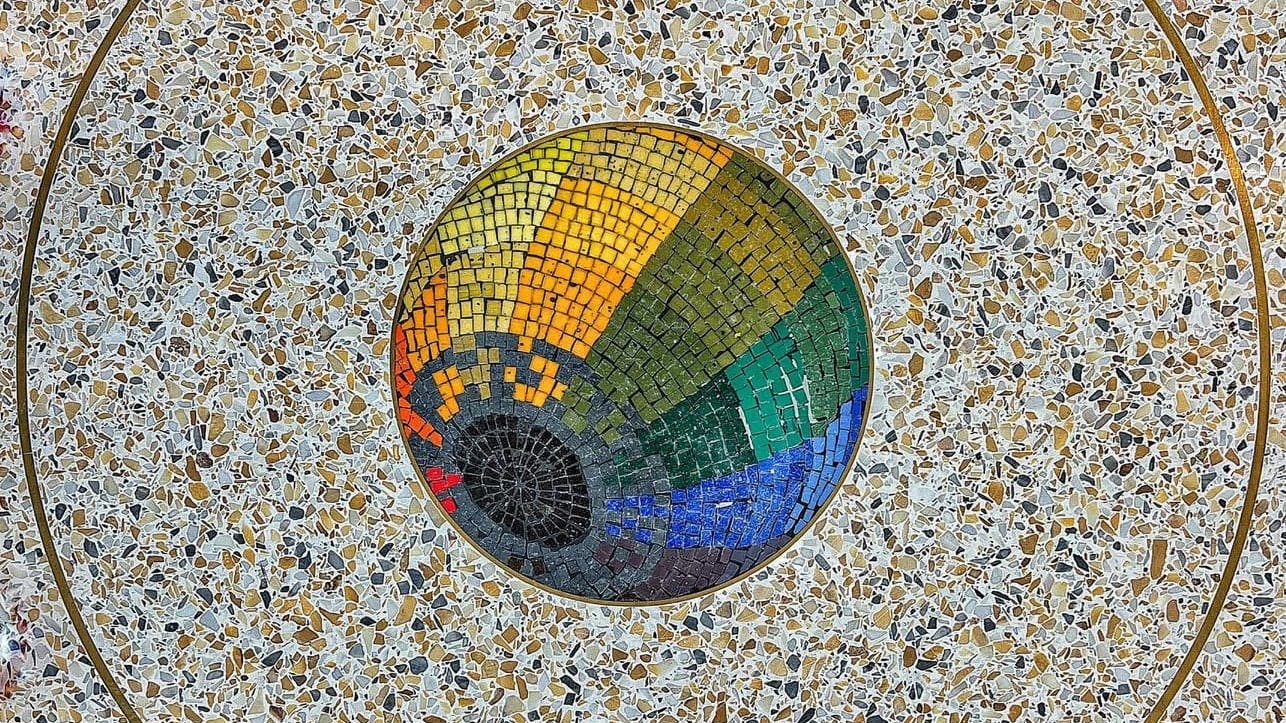 Polarities (medallions only)
Reuse of 39 medallions from the demolished terminal into the new Terminal, opened in 2023, terrazzo floor near each gate gives travelers a sense of nostalgia for MCI, creates a visual marker, and invites exploration to find each design.
Courtesy of Kansas City, Missouri, One Percent for Art Program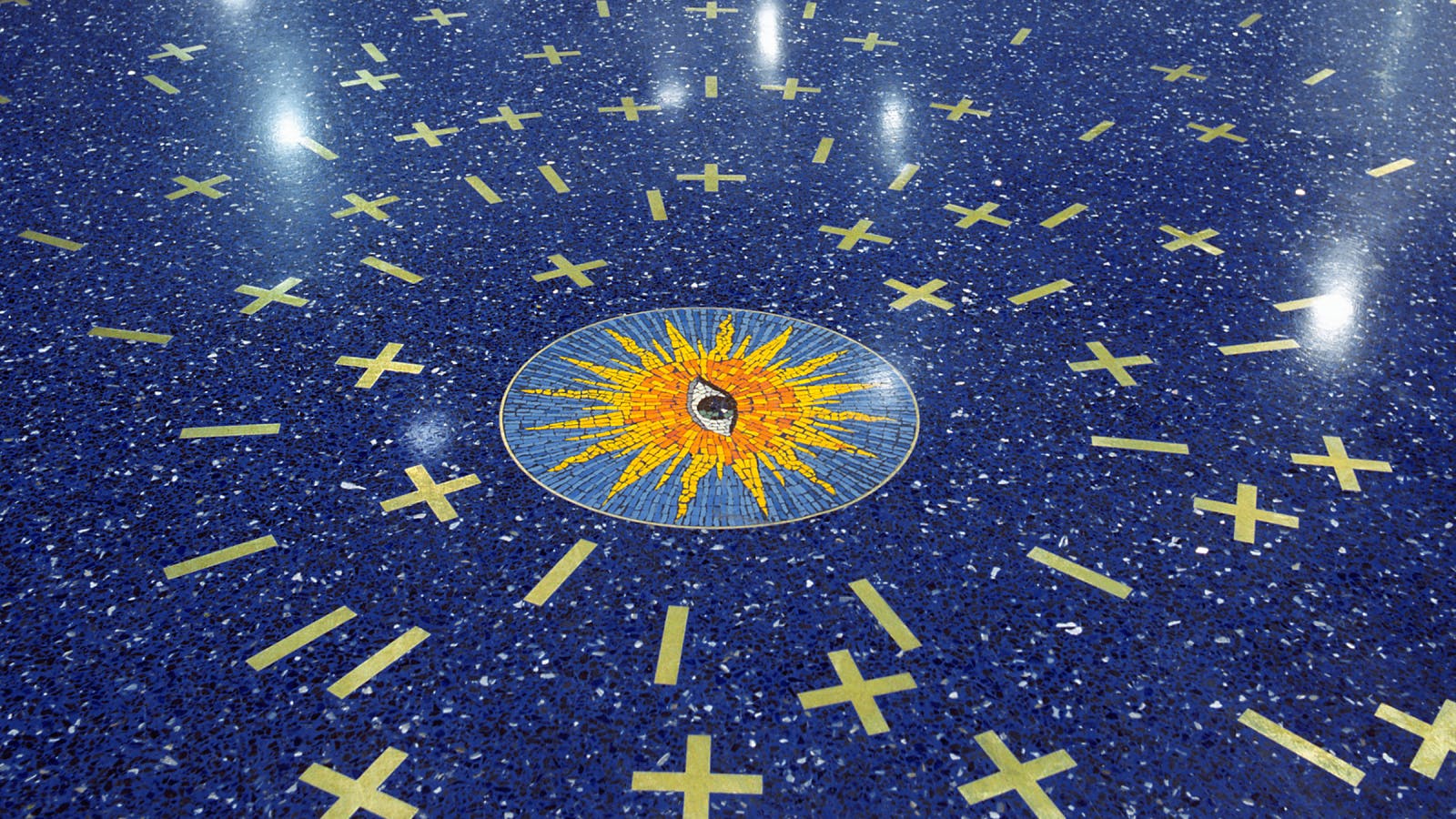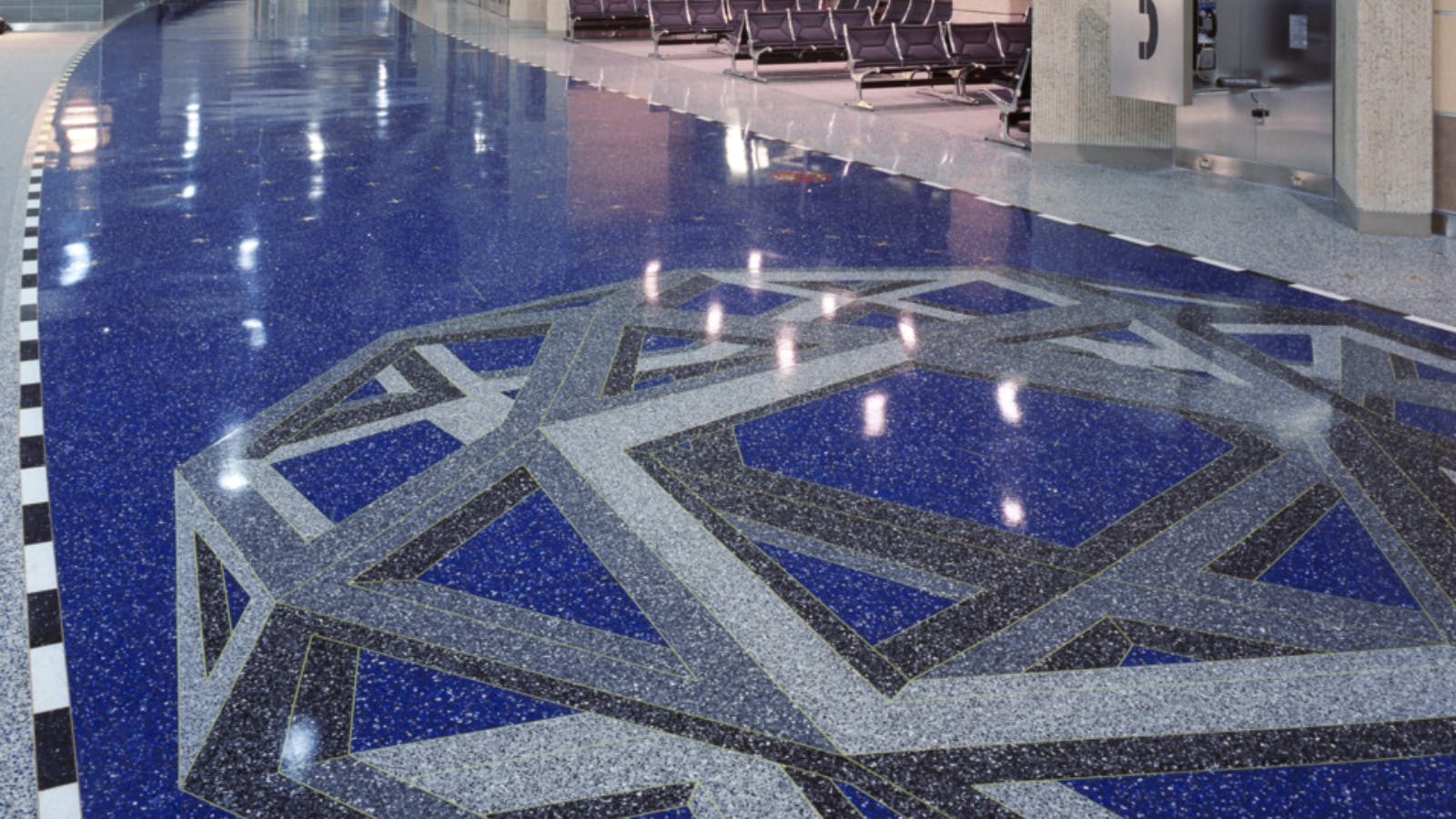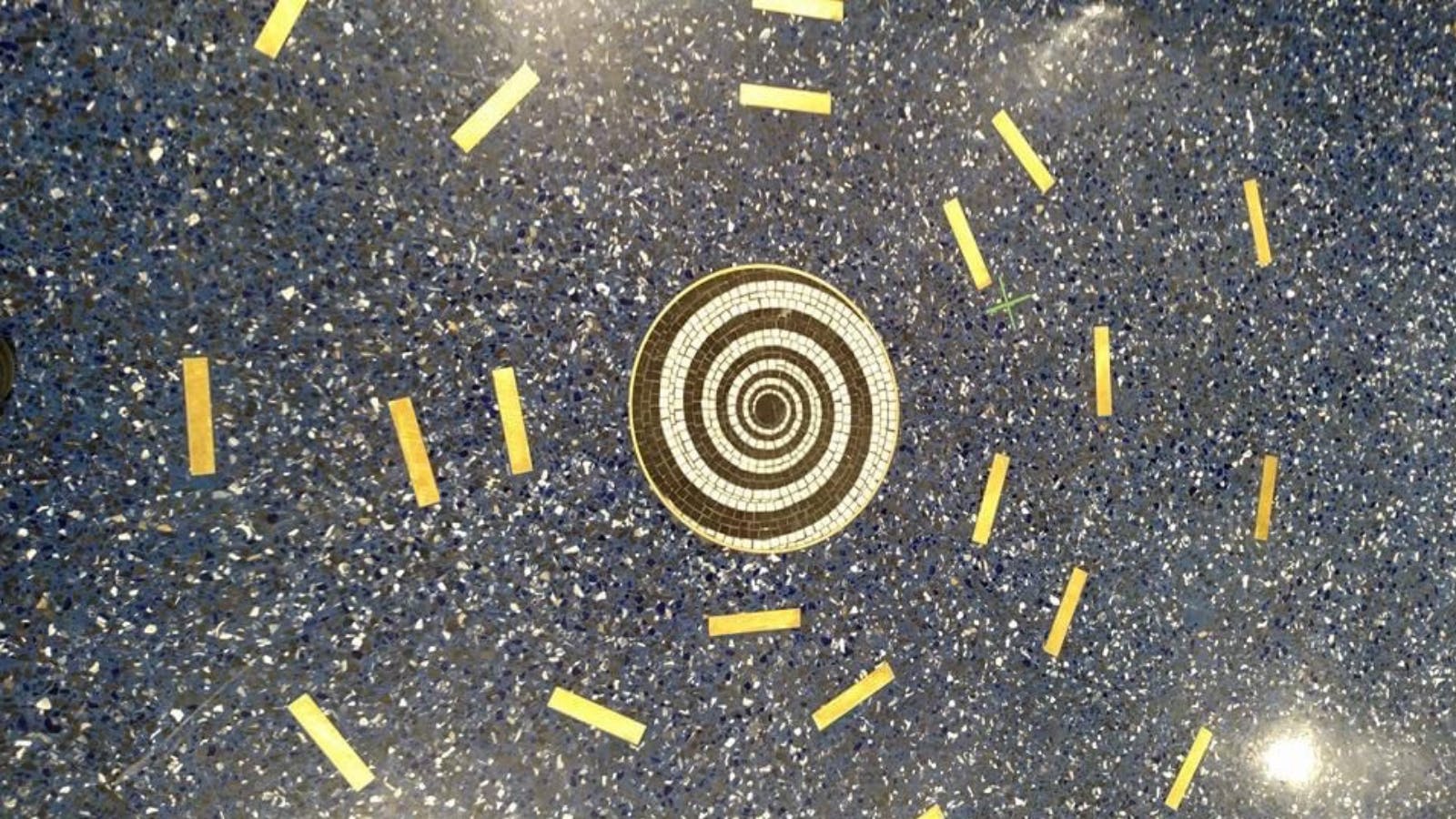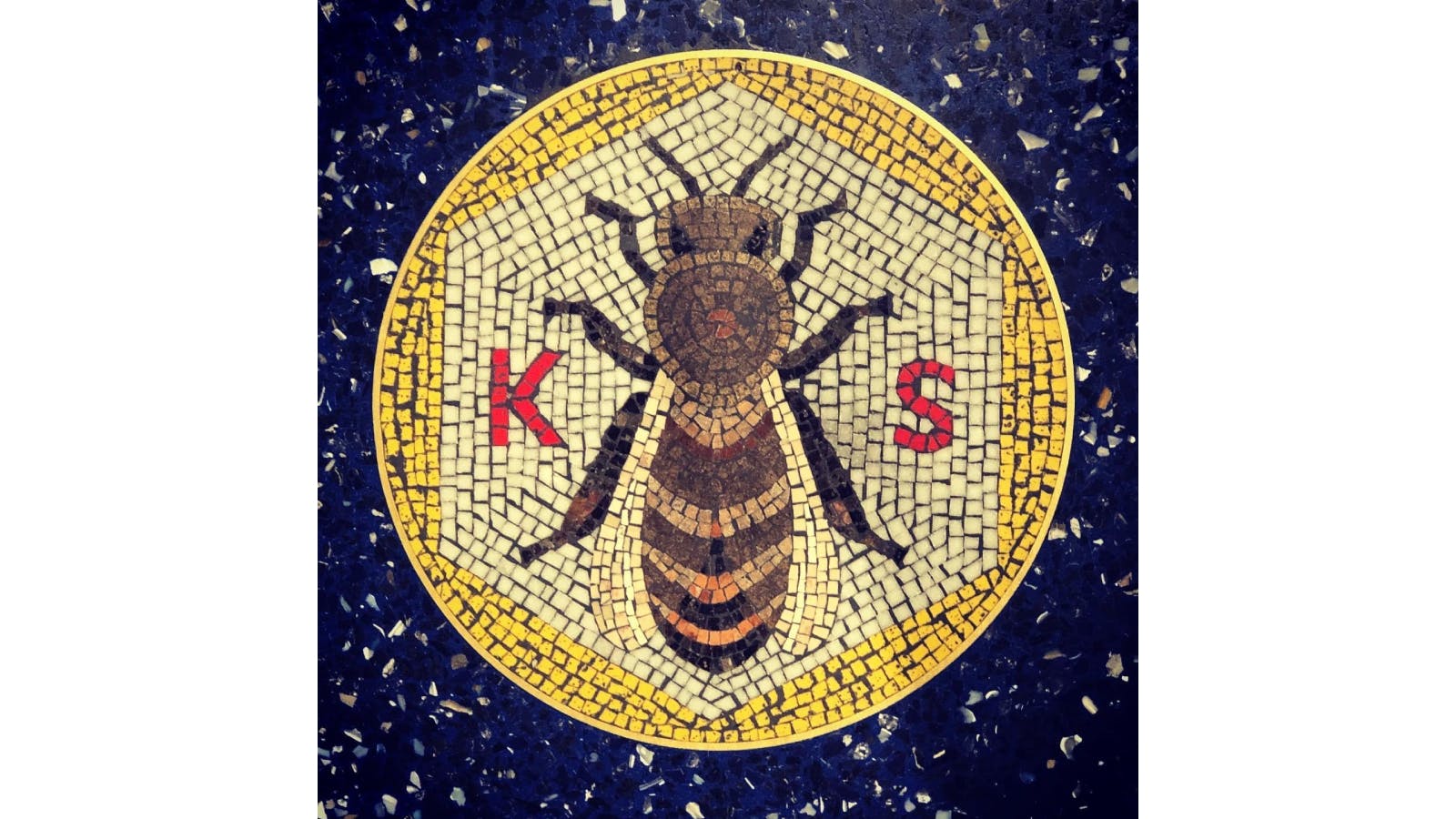 Polarities
Detail of Kristin Jones' and Andrew Ginzel's Polarities, a terrazzo floor installation for the old Terminals A, B, and C, 2002. The inlaid embellishments, colorful lines, and circles resemble cartography and orbital patterns of planets.
Included in the 2000 KCI renovations was Kristin Jones' and Andrew Ginzel's, Polarities, an iconic design featuring over 200,000 square feet of terrazzo flooring inlaid with mosaic medallions, brass inclusions, glass, mother of pearl, and marble aggregates. This artwork was one of several chosen under the city's One Percent for Art Program. Mosaic medallions such as the one shown in the foreground were placed throughout the floor. The Kansas City Aviation Department salvaged medallions from Terminal A for reuse in the floor of the new single terminal opening in 2023.
Photograph Copyright 2004 Mike Sinclair. All rights reserved.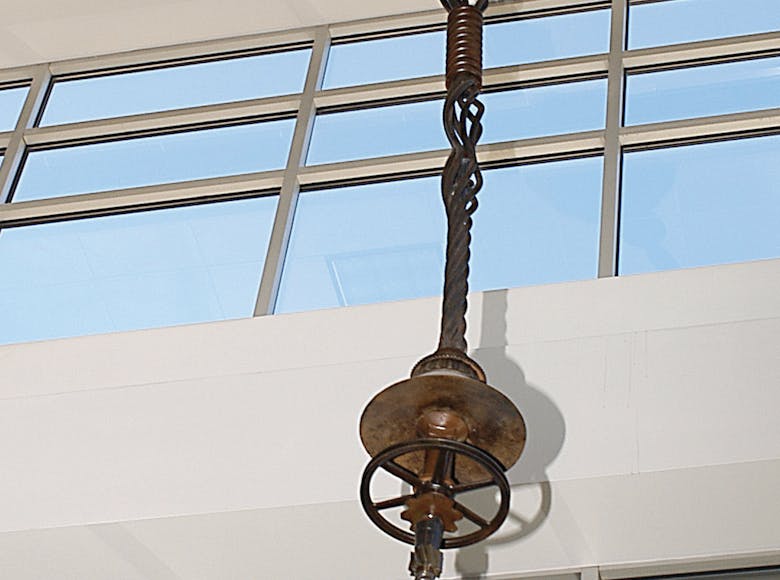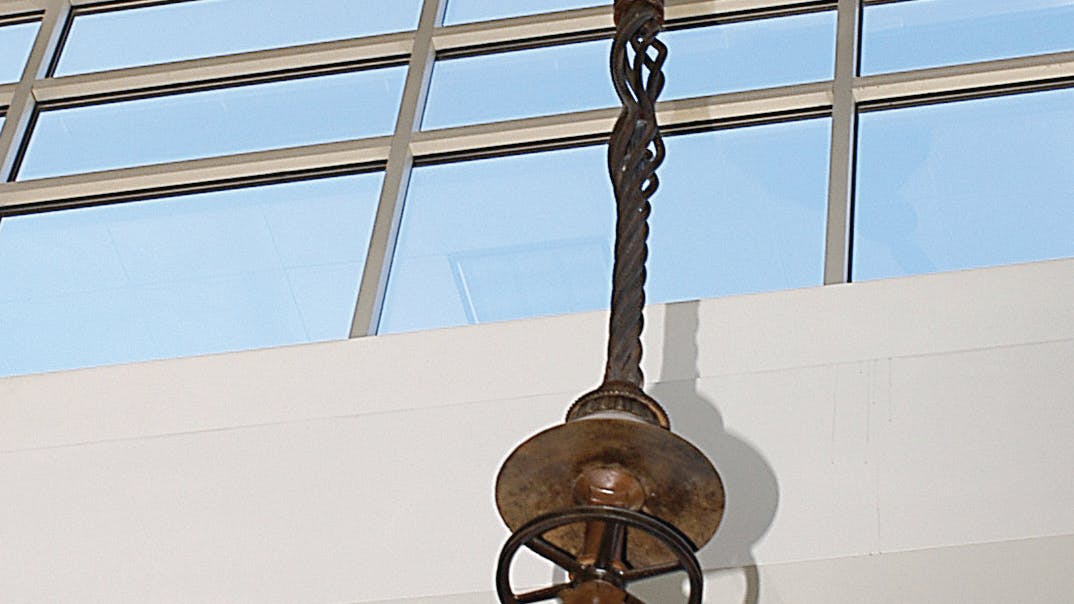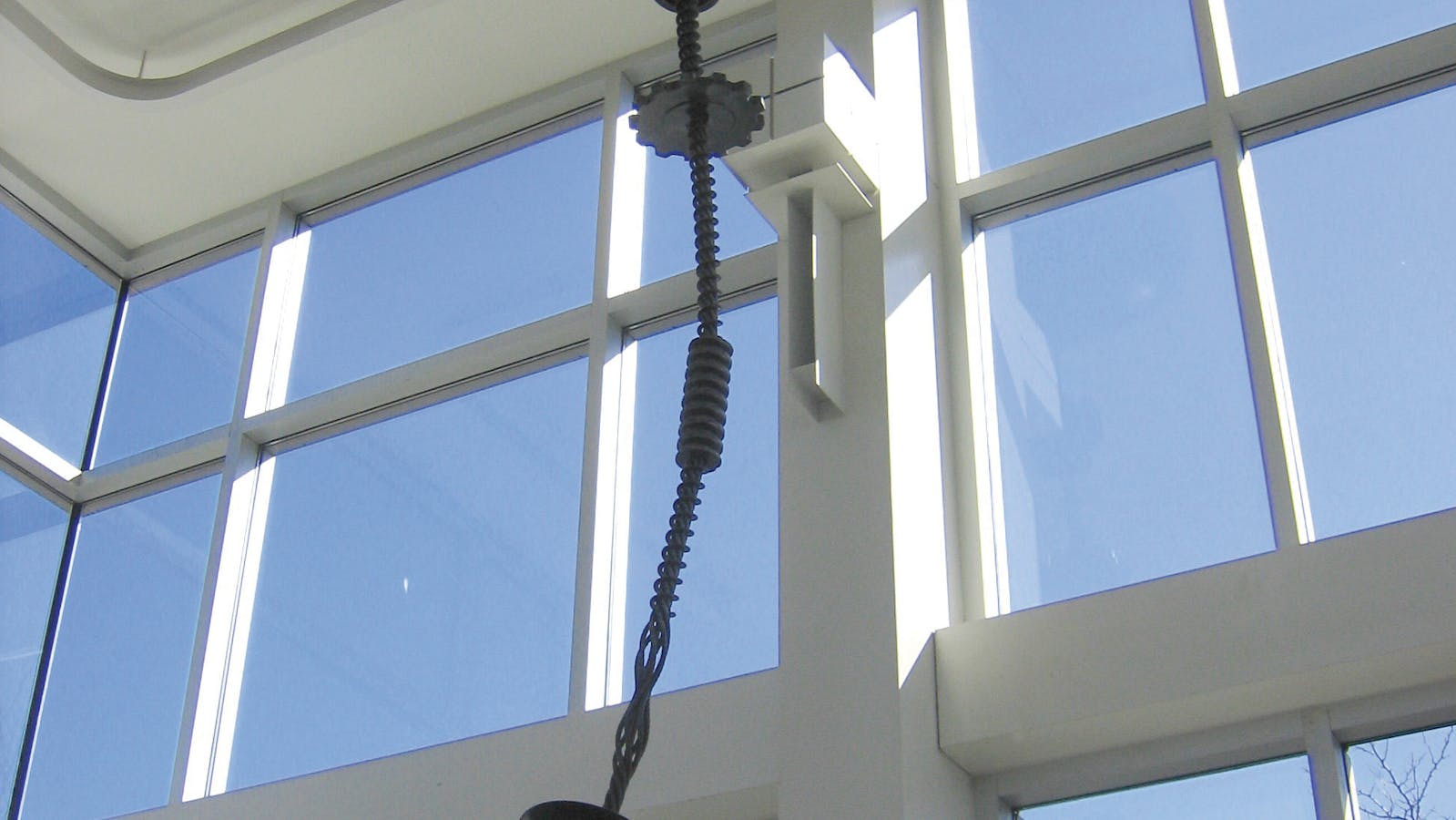 Chandelabras
Christian Mann
Located in the previous Terminal parking garage stairwells B & C
Found objects, glass, and neon.
These installations included five "chandelabras" composed of found machinery parts and old steel cables, mixed with neon lights. Each piece was located in the previous Terminal parking garage stairwells. 
Christian Mann lives and works in Kansas City as an artist and gallery owner. As he explains in his artist statement, "Chandelier, a lighting fixture hung from the ceiling, and candelabra, a large branched candlestick, are the namesakes for the Chandelabra series." Mann's installation includes five chandelabras hung in three of the Kansas City International Airport Terminal parking garage stair towers. Each is composed of found machinery parts and old steel cables mixed with colored neon lights.
Photos courtesy of Kansas City, Missouri, One Percent for Art Program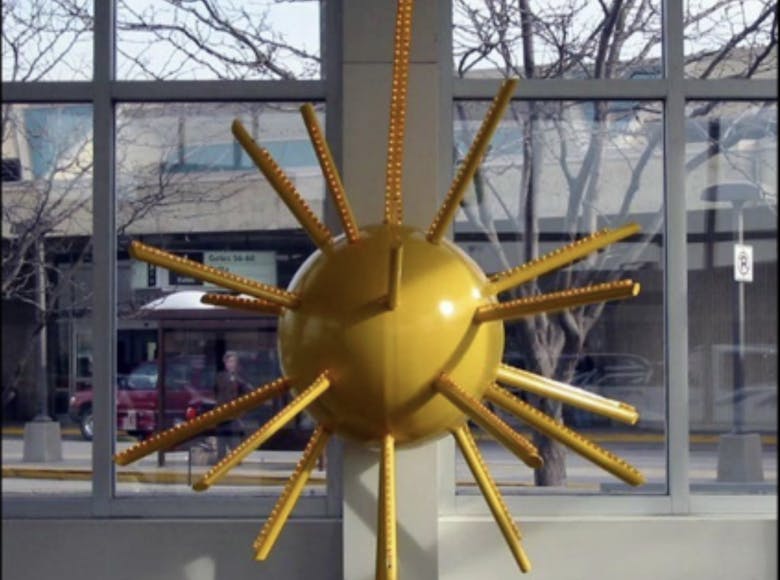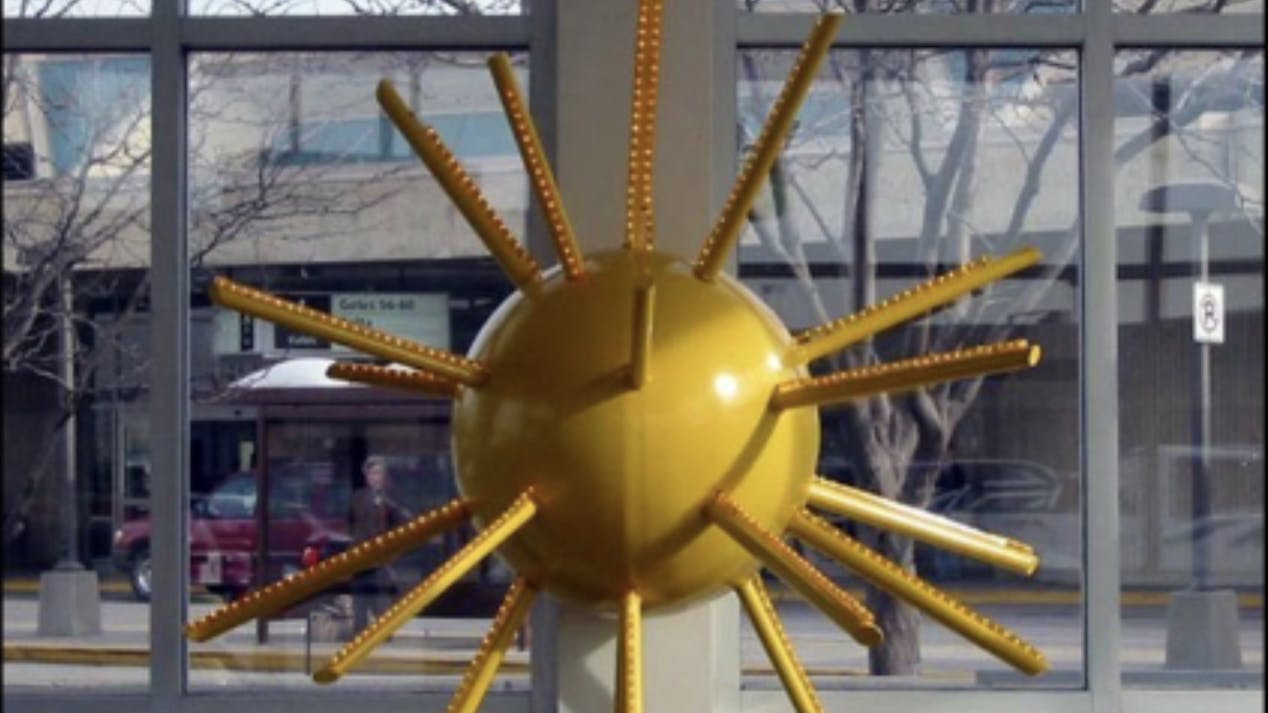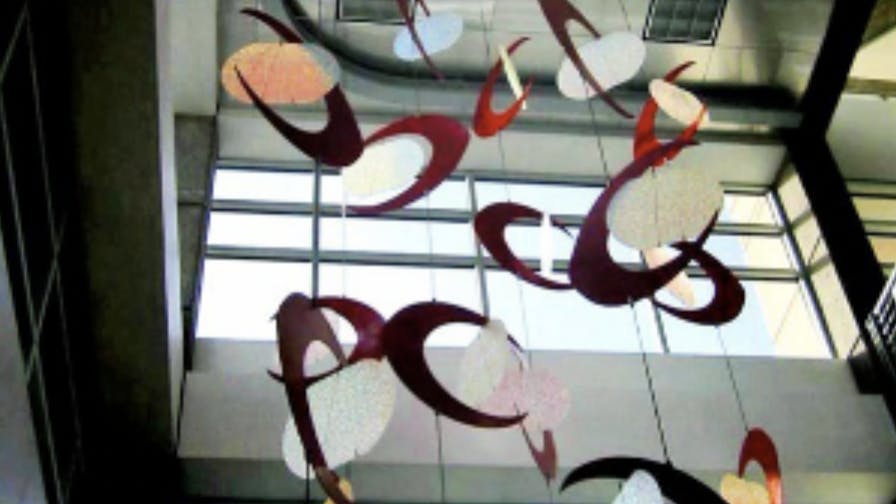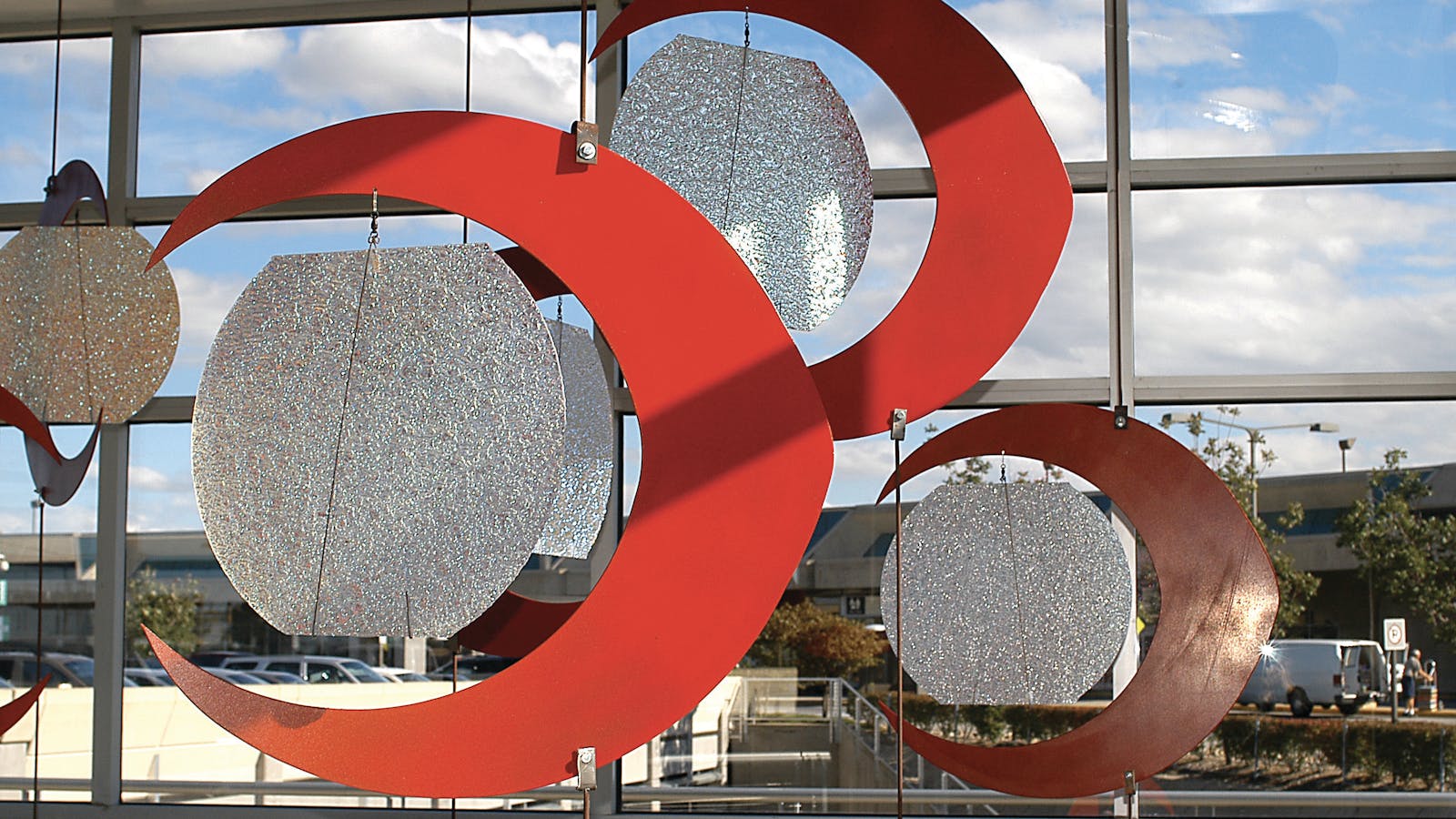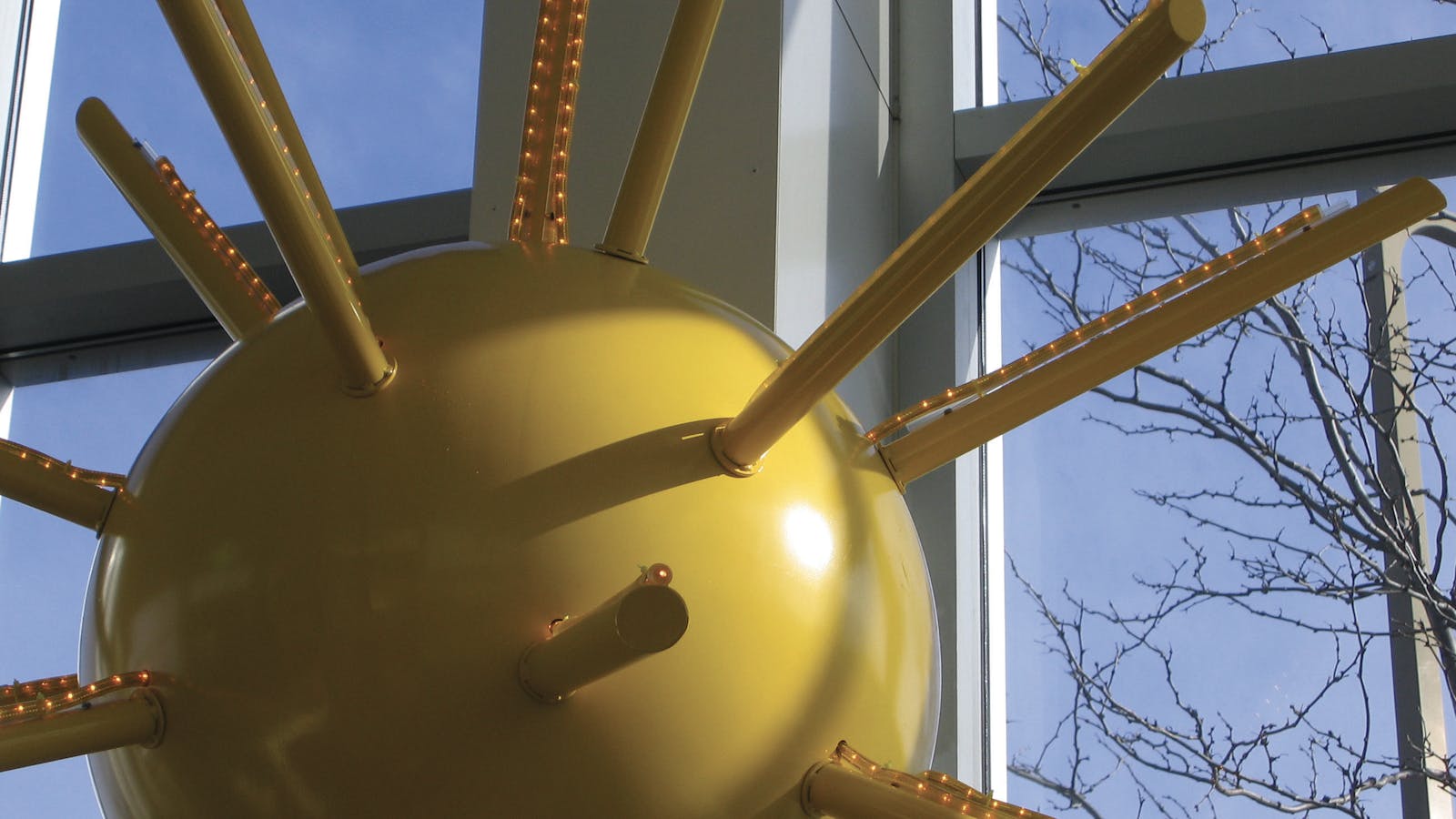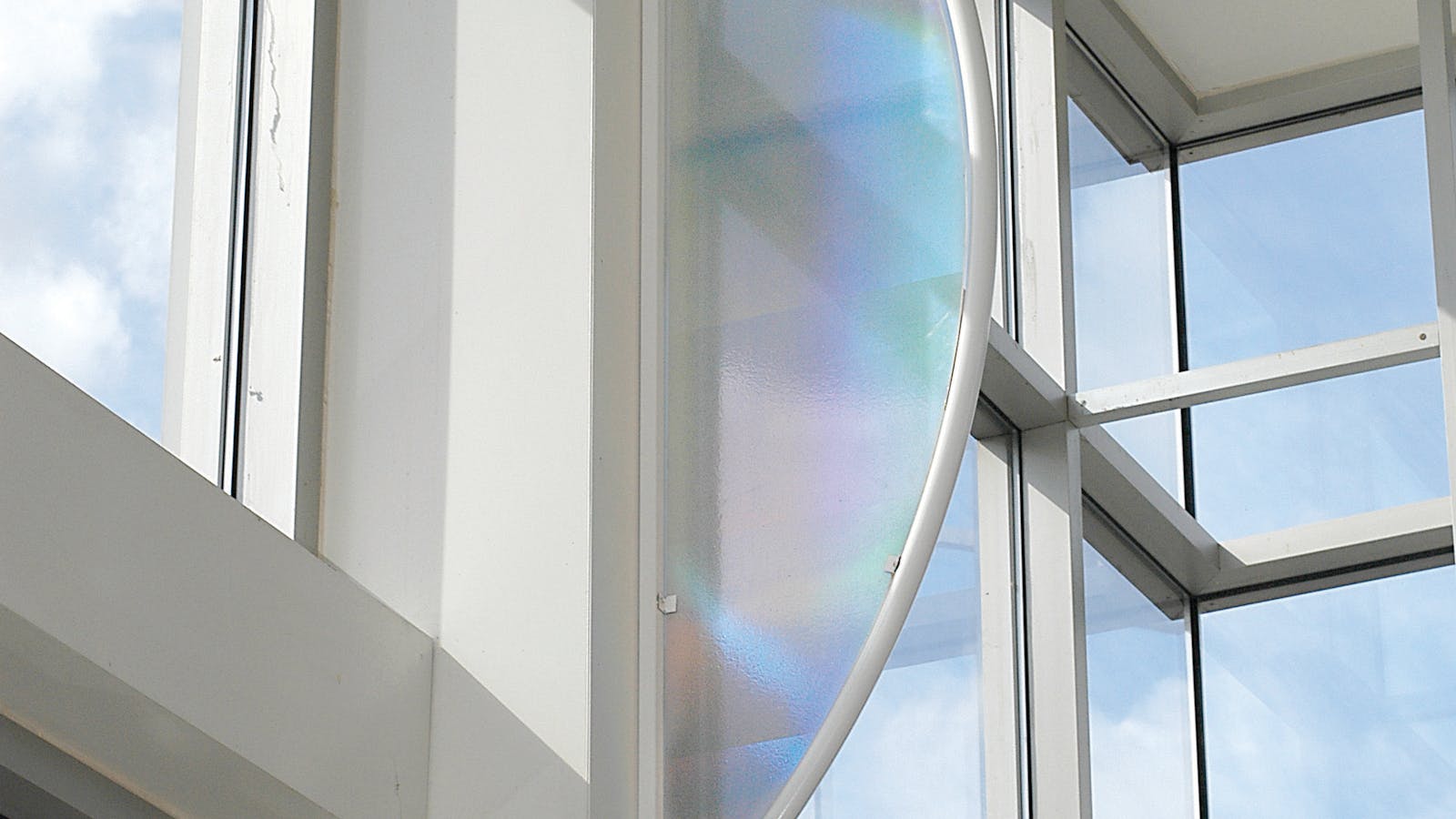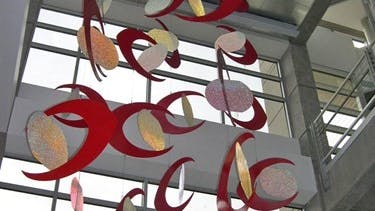 Dancing Crescents, Sunburst, and Dusk
STRETCH
Previous Terminal parking garage stairwells
Steel, dichroic glass, mixed media
Three individual works for three stair towers, one in each of the parking garages at the previous MCI Terminal. Dancing Crescents is made of strands with steel crescents that cradle dichroic glass pieces and hang from the ceiling of the stair tower like a giant mobile. The installation
moves gently as travelers move inside and outside the stairways. Sunburst looks much like a three dimensional version of a child's drawing of the sun. Here it literally bursts with lines of light, which give it a yellow aura.
Photos courtesy of Kansas City, Missouri, One Percent for Art Program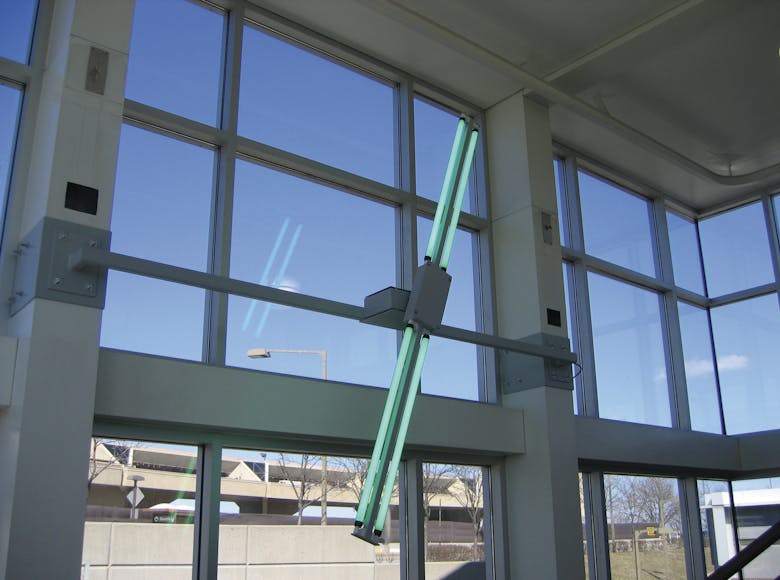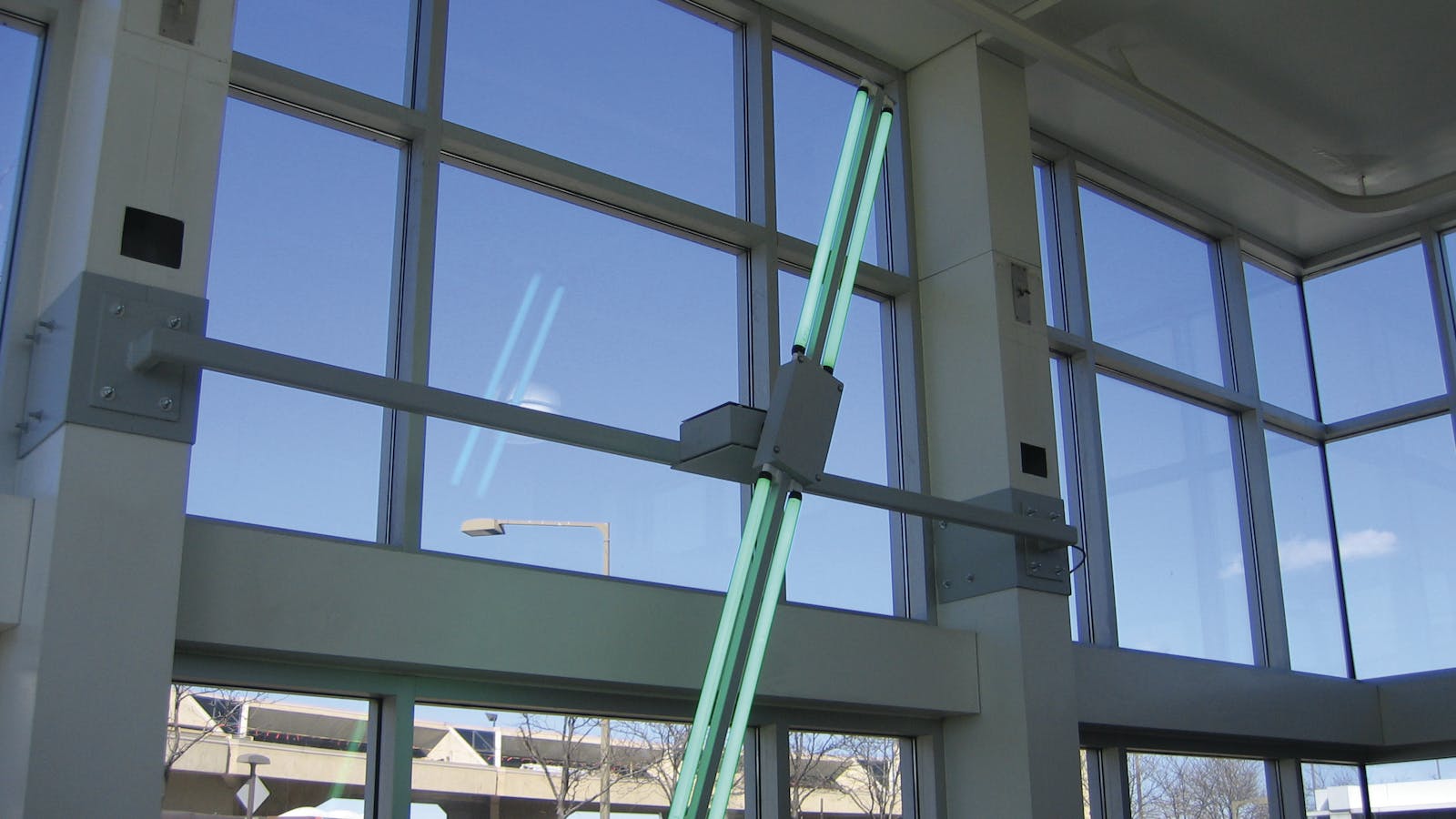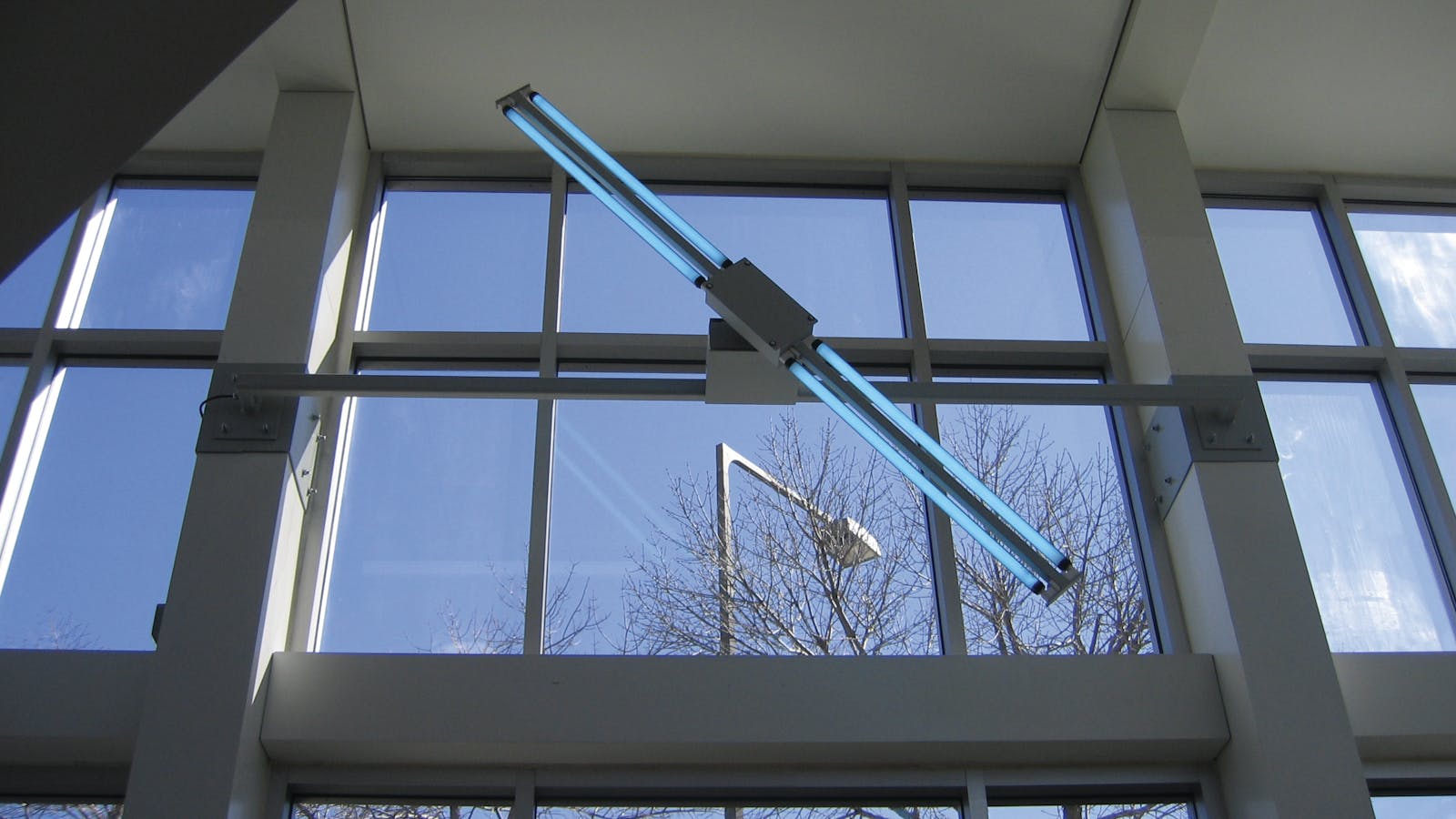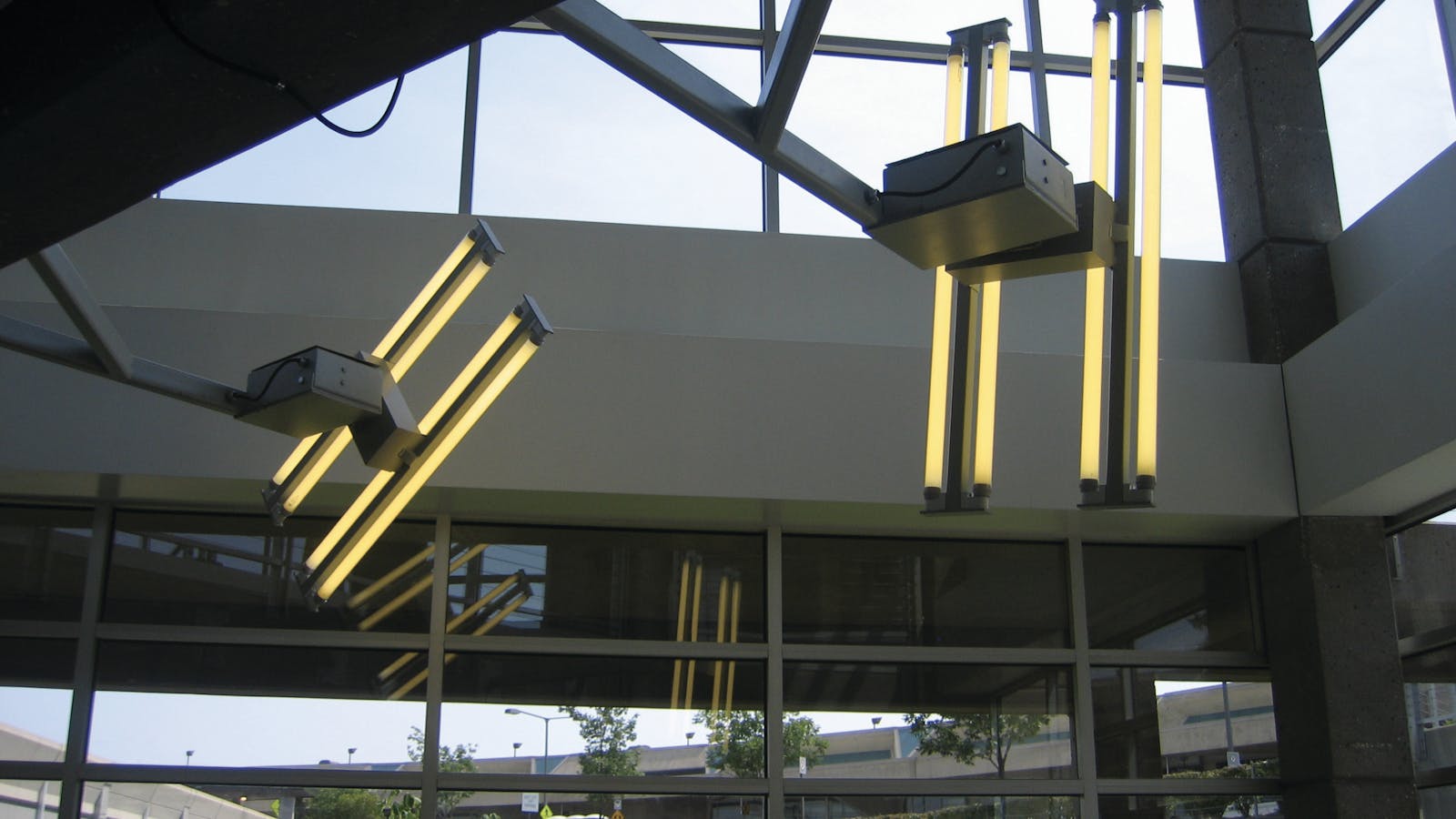 Deuce
Jim Woodfill
Old Terminal garage stairwell towers
Deuce consists of six rotating, propeller-like rotating fluorescent light fixtures. Two fixtures are installed in each stair tower of the three Kansas City International Airport Terminal parking garages. The three installations have two slowly rotating fixtures that are mounted in various locations in the three stair towers. Woodfill used four-foot long fluorescent lights attached on opposite sides of a rotating motor to create the eight-foot long, spinning "signals." The artist also uses blue and green colored filters on some of the rotating fixtures to cast different lighting effects which are visible inside and outside the stair tower structures during the day and at night.
Photos courtesy of Kansas City, Missouri, One Percent for Art Program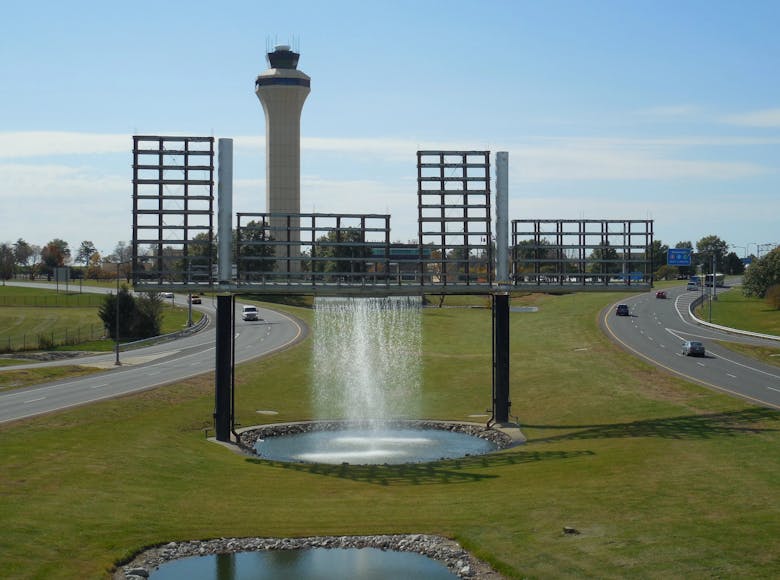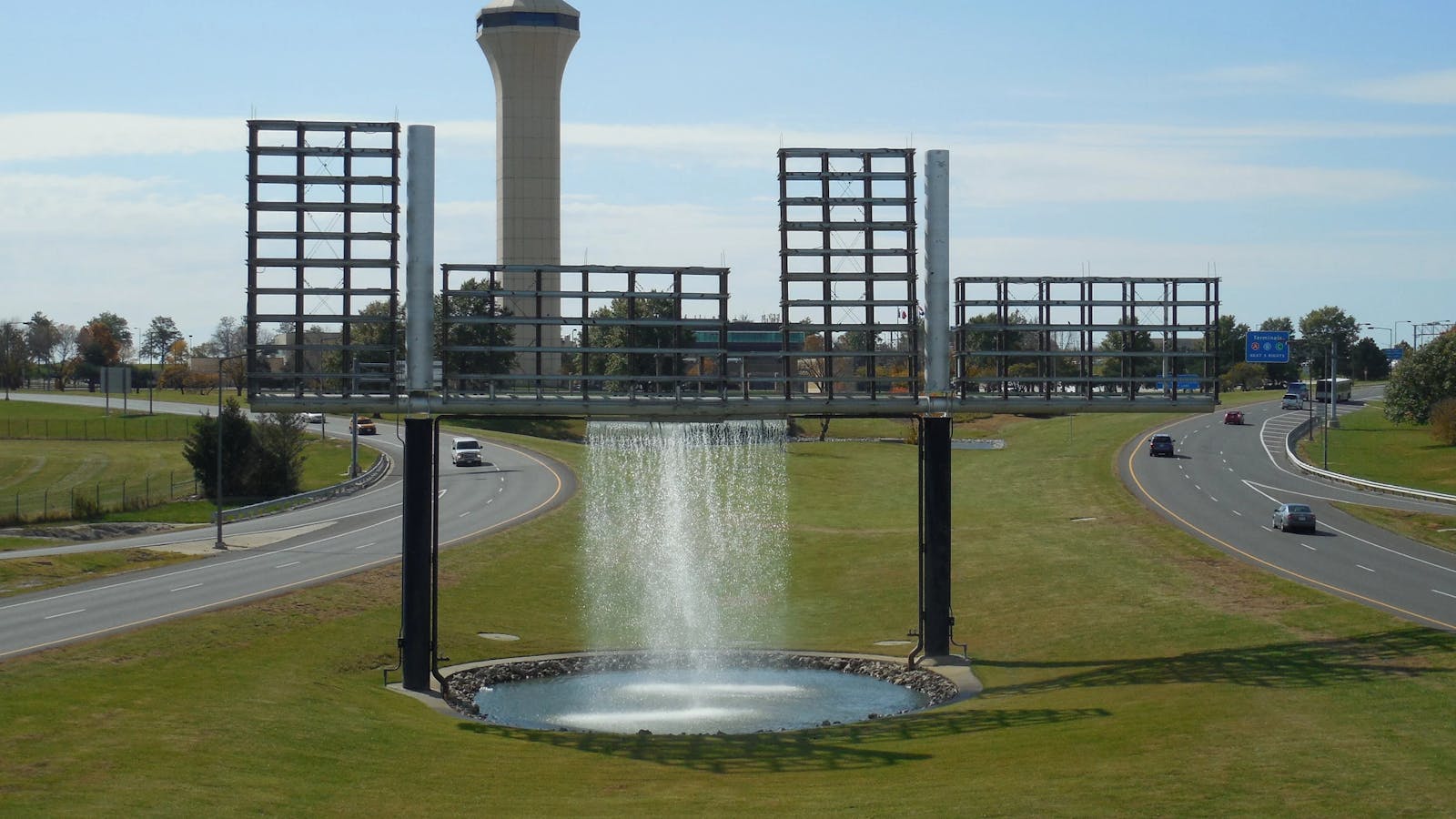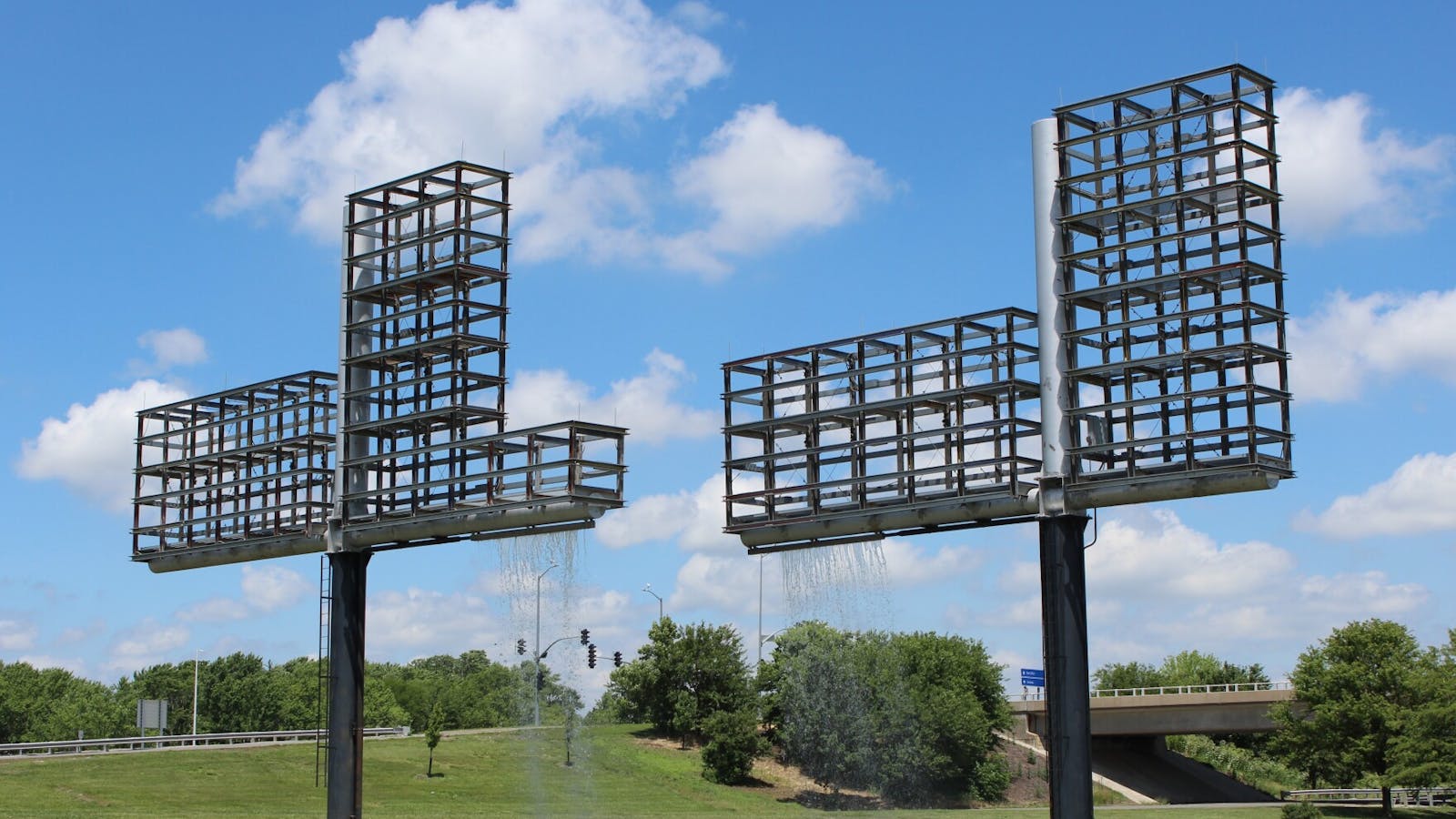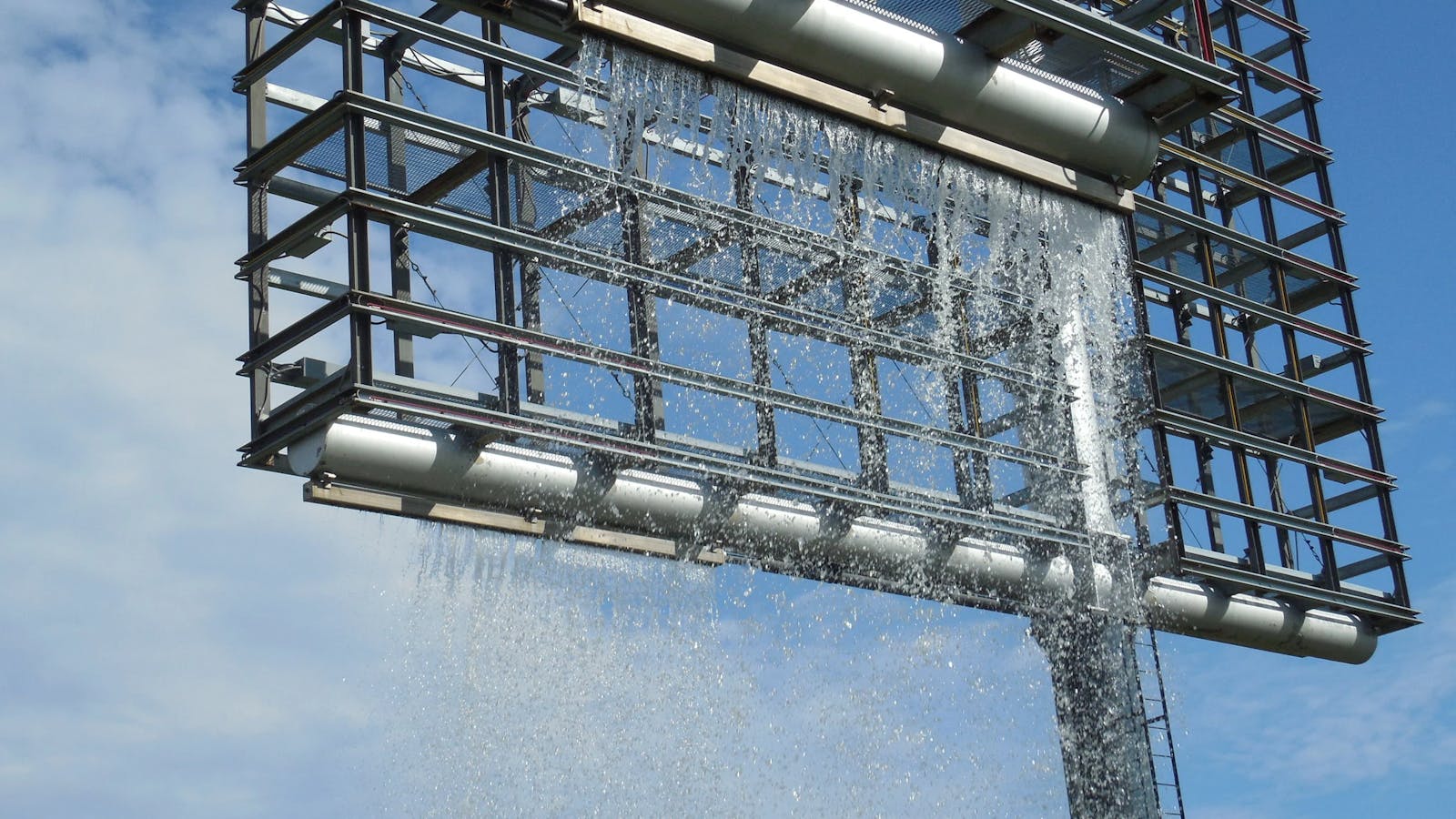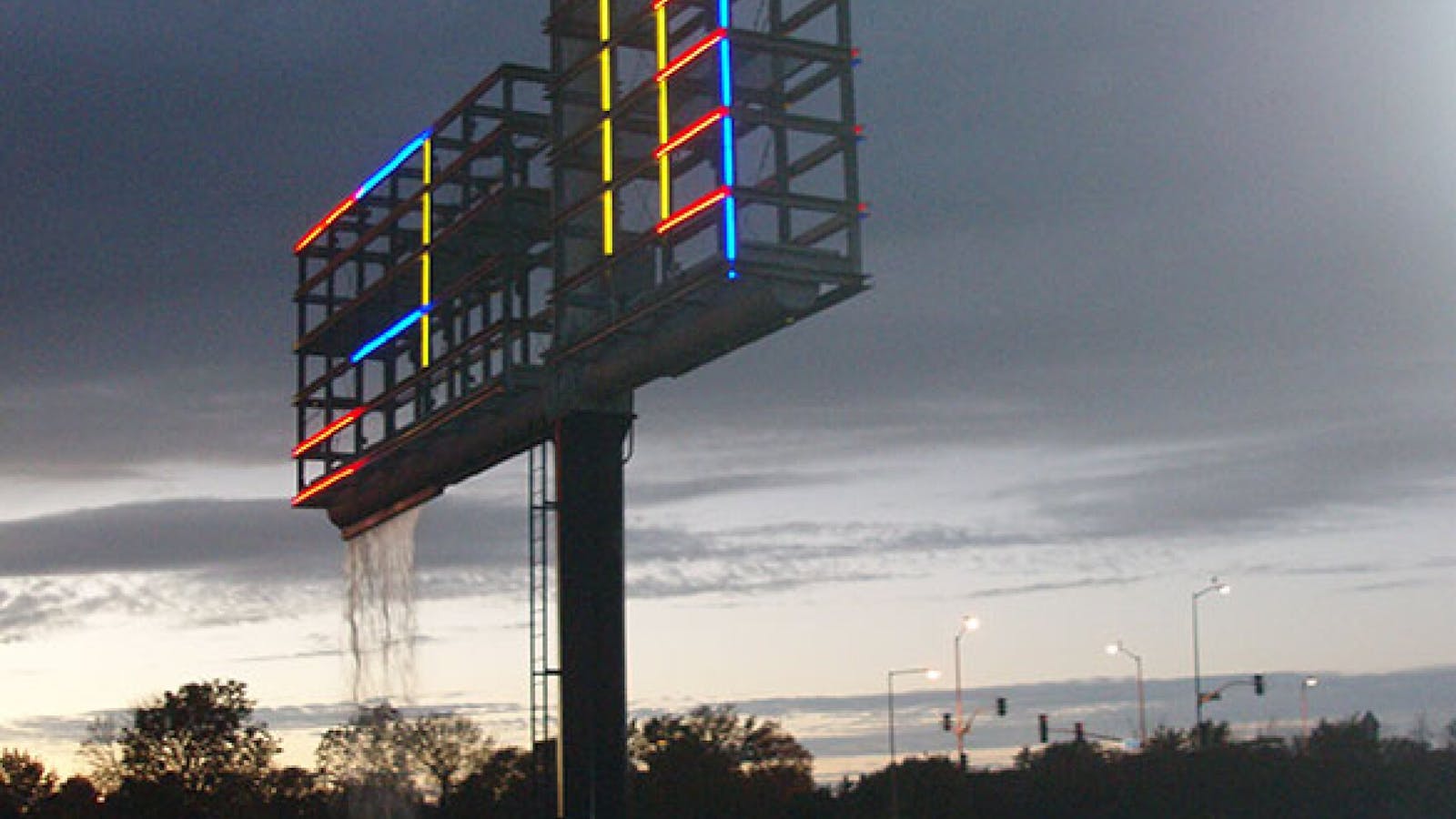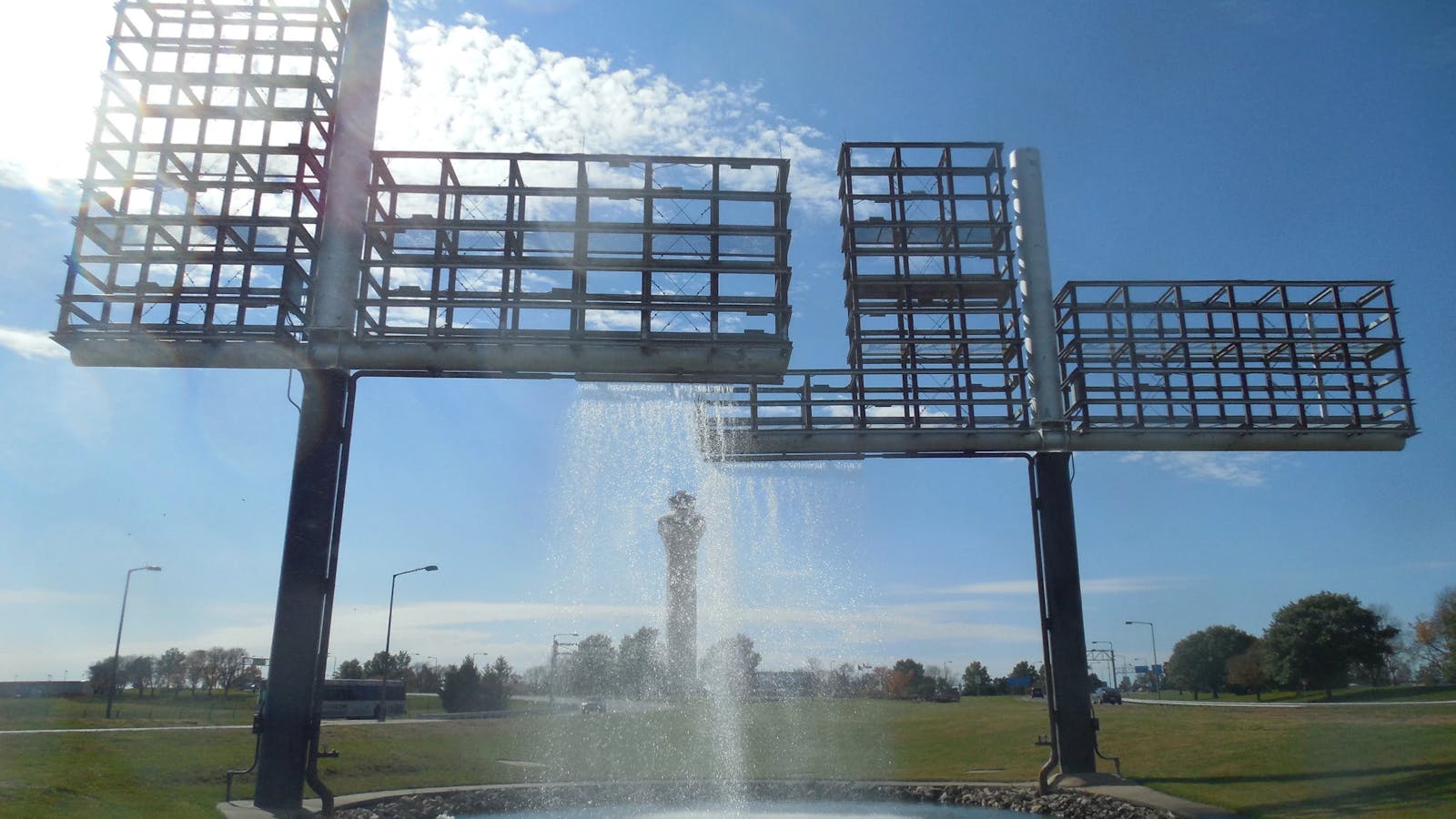 Double Monopole
Keith Sonnier's Double Monopole is currently undergoing needed conservation and is not on view. Once the restoration is completed, the sculpture will be located adjacent to the reservoir. It will be viewable from Cookingham Drive and Brasilia Avenue.
Previously located at Kansas City International Airport in the median of Cookingham Drive, just south of Paris Street. Double Monopole consists of two steel monopoles, each one 60 feet tall. The south monopole is 60 feet wide and the north monopole is 80 feet wide. The artwork lights up in neon blues, pinks and yellows from dusk until dawn and serves as a welcoming beacon for those entering the airport from both the air and the ground. Each monopole contains a 30 foot tall fountain/waterfall. Water is pumped from the reservoir across the street to the North. This artwork is not only ornamental but also functional as the waterfalls help aerate the water in the reservoir.
Commissioned in 2006 as part of the Kansas City, Missouri, One Percent for Art Program.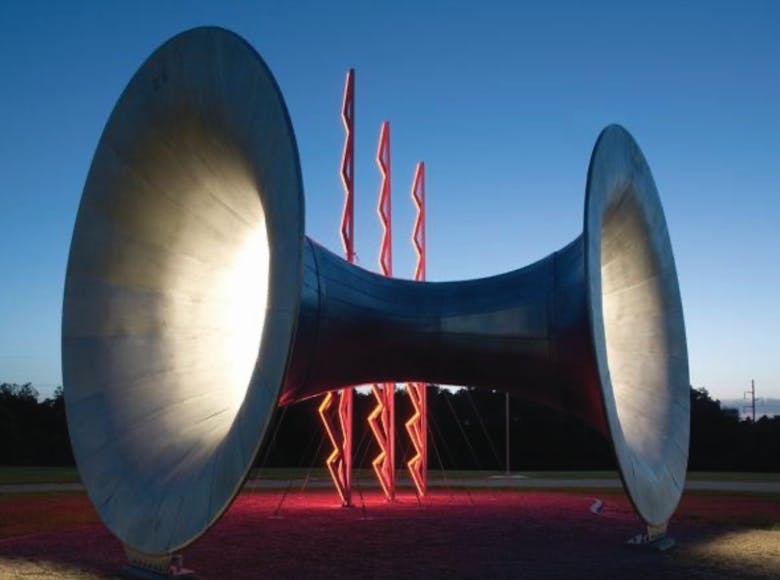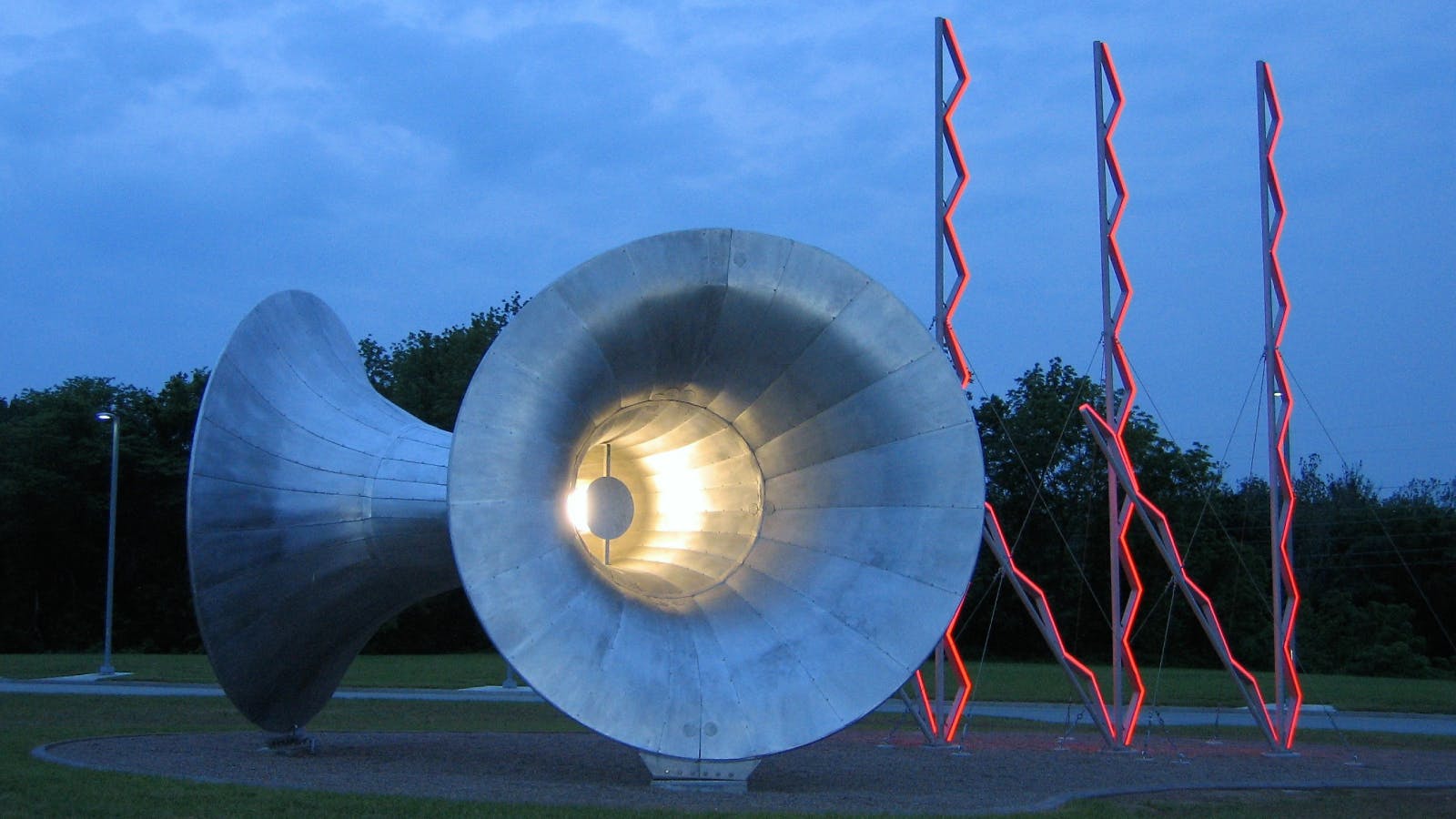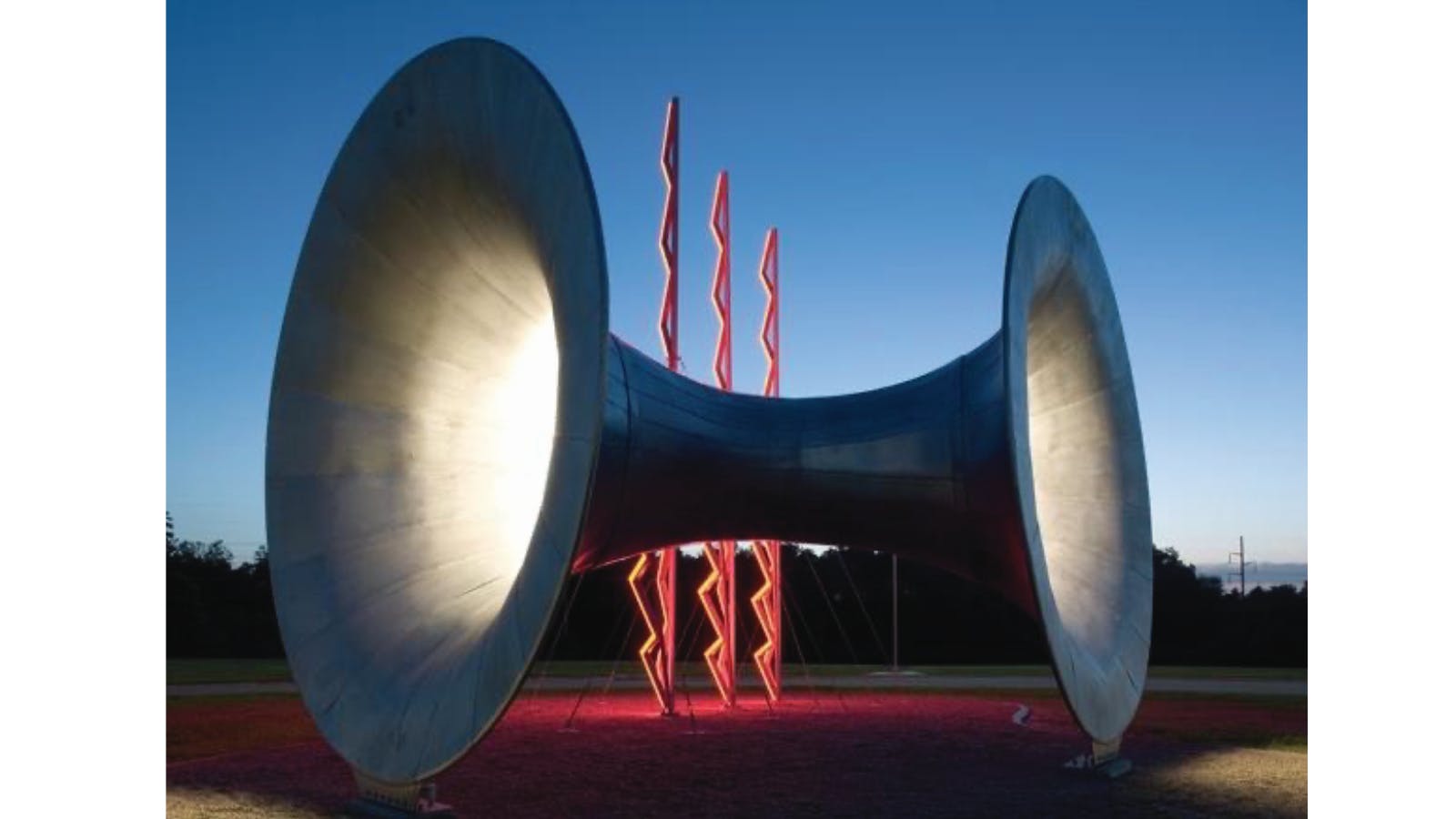 Strange Attractor for Kansas City
Alice Aycock's artwork is related to human flight, astrophysics and, some might say, aliens.  Shaped like two giant trumpet bells facing away from each other and attached in the middle like a double-sided cornucopia, the artwork is fabricated like an airplane – an armature wrapped in an aluminum skin.  Both bell shapes project a soft light and three neon orange "zigzags" emulate radio signals or light waves.  As the artist describes, " The sculpture evokes the spaces created by wind tunnels, which are used to test the aerodynamics of airplane designs. It also suggests future travel through wormholes or time machines imagined in science fiction as well as the astrophysics illustrations of Stephen Hawking. From a distance, the interior space draws the spectator in and gives the long-term parking area a strong focus. The sculpture also suggests a device that could broadcast information from and out into outer space. The neon antennas are designed as a vertical counterpoint to the curvature of the tunnel. They also mark the spot and suggest that energy is radiating out into and down through the sculpture.
Photograph by Mike Sinclair.
Kansas City, Missouri, One Percent for Art Program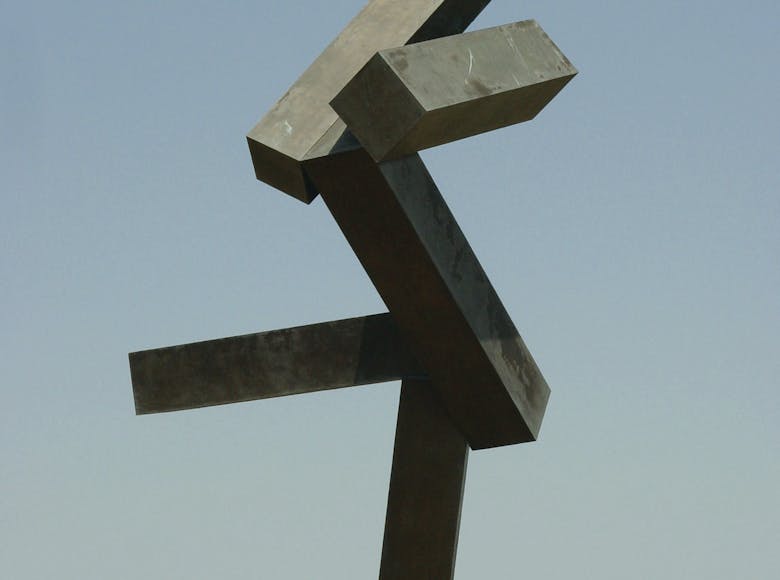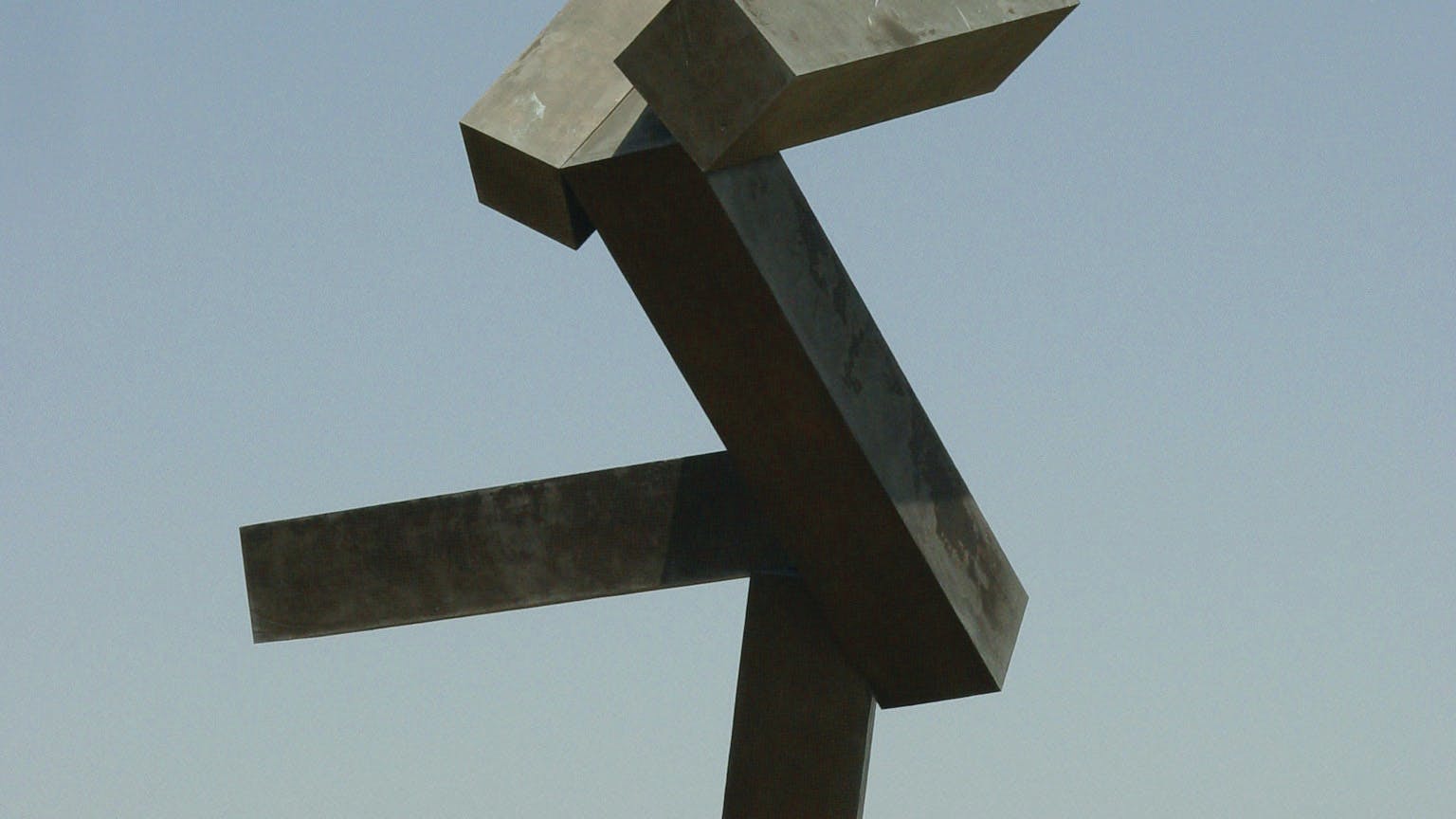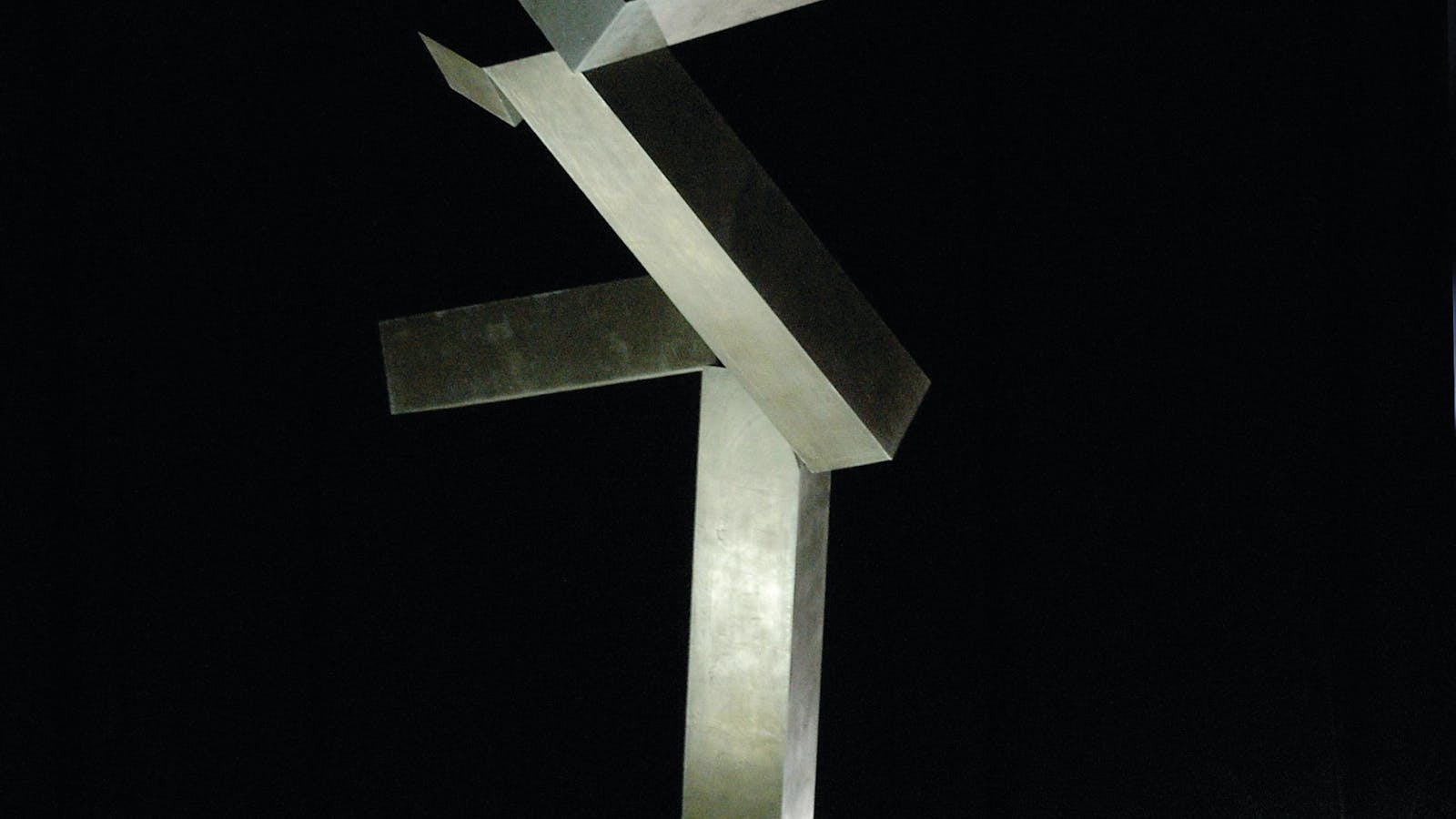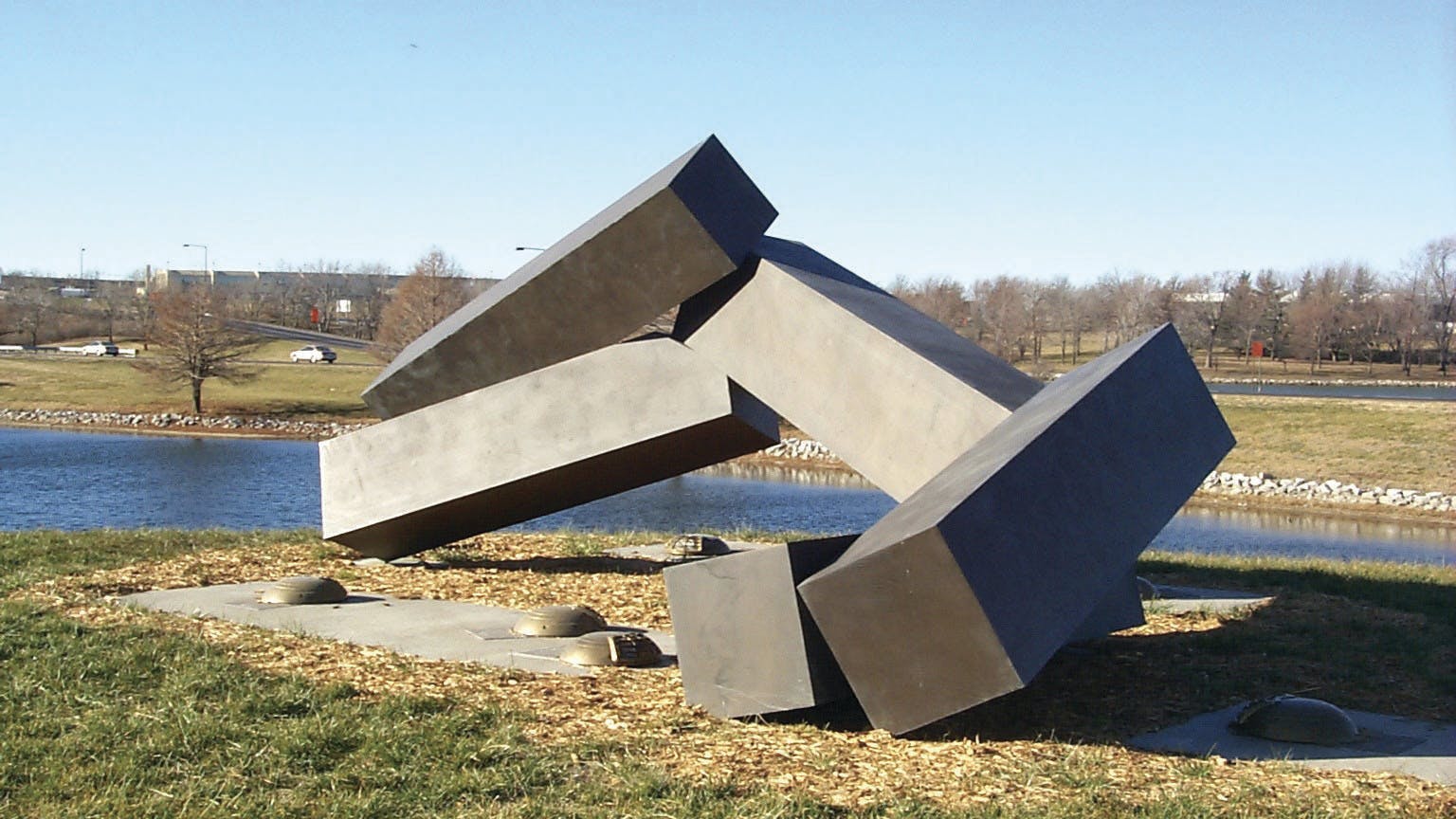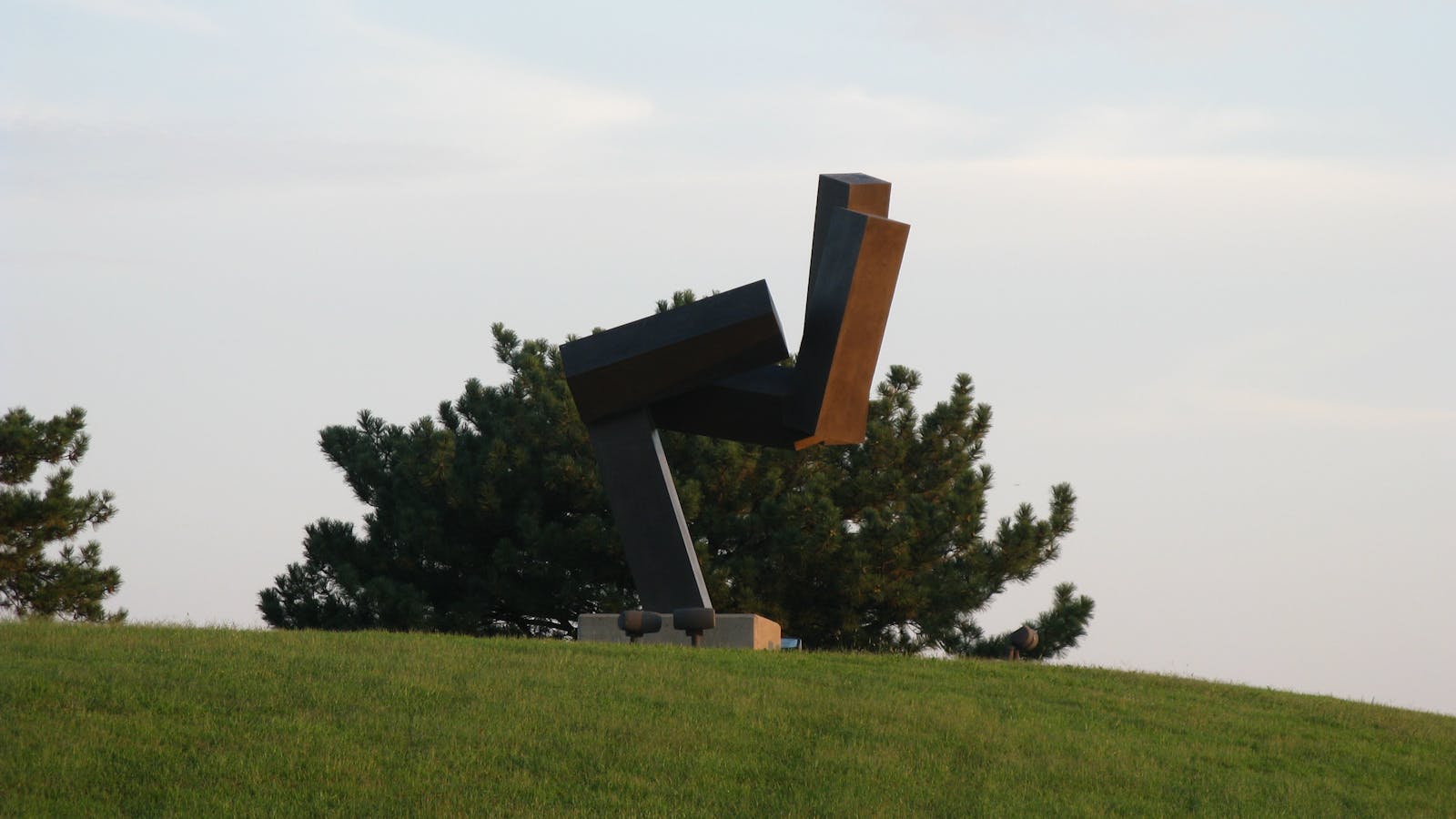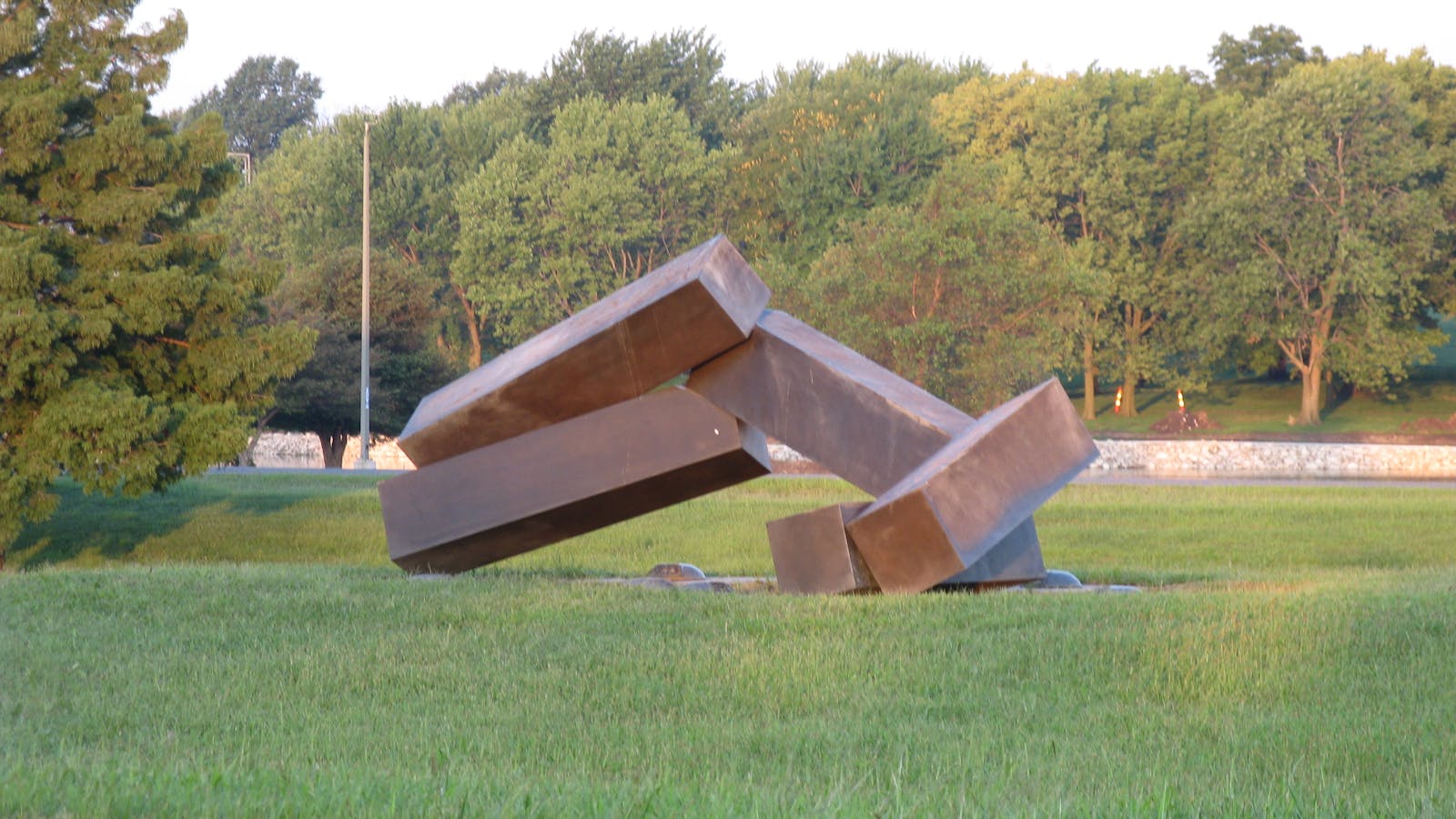 Three Figures/Fifteen Elements
Joel Shapiro
Median areas on Cookingham Drive between Bern and Paris Streets.
Welcoming visitors to Kansas City International Airport, the bronze sculptures are geometric shapes from one angle, but active figures when viewed from a slightly different perspective. Heavy beams connected at angles create the reclining, bending and balancing figures that almost come alive. The figures can be viewed as geometric abstractions of the human form, kneeling, standing or dancing and waving in recognition of those arriving or departing the airport.
Kansas City, Missouri, One Percent for Art Program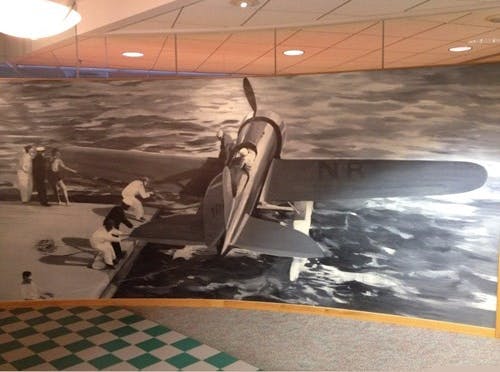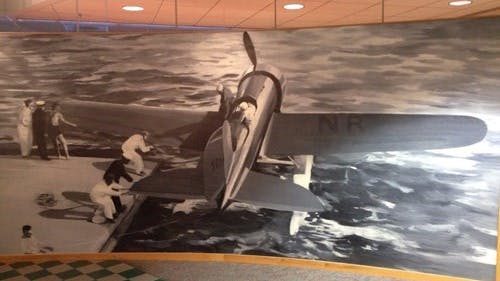 Tingmissartoq
Christopher Brown
Inside the Aviation office building
Oil on canvas. 2000.
Working from a photograph, Christopher Brown interprets a picture of the Lindberghs arriving at a dock in the Tingmissartoq into a grayscale, oil-based mural which adorns the lobby of the Aviation Administration offices.
Tingmissartoq which means "one who flies like a big bird", was the Inuit name given the plane flown by Charles and Anne Morrow Lindbergh in their 1931 flight from Maine to Japan and China, via the great arc route. The trip was recounted in North to the Orient, Anne Morrow Lindbergh's best seeking account of the adventure which won a National Book Award in 1935.