Kansas City International Airport
(IATA Code: MCI)
History of Kansas City International Airport
Every good story starts with a celebration. After three days of events, air shows, parties, and exhibits October 21-23, 1972, Kansas City International Airport (MCI) was dedicated by the vice president of the United States, Spiro Agnew. After a few final finishing touches, at 1:22 a.m. on Nov. 11, Kansas City's new hometown airport officially opened for business. The new airport replaced then-named Kansas City Municipal Airport, which served Kansas City from 1927 until it was deemed too small to expand to meet growing demand.
Home to just a handful of carriers at the time, Kansas City's new airport proudly boasted jumbo jet runways and the world's first drive-to-your-gate design. It was the heart of the Heart of America – built with pride by the city, for the city.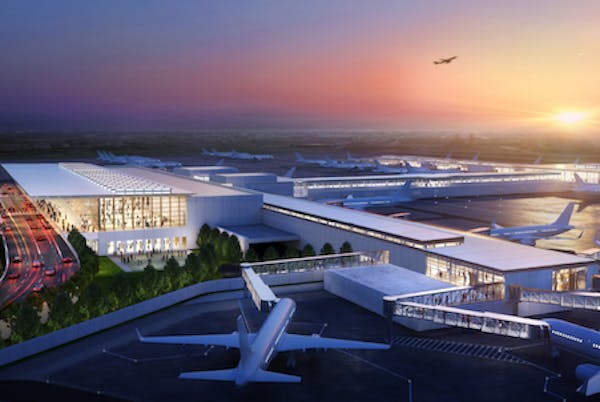 Over the next decades, Kansas City International continued to be a destination and a stop for travelers near and far. But in 1990, amid the Persian Gulf Crisis, fuel shortages hit the entire airline industry hard – dropping flights in and out of MCI to record lows.
Faced with a challenge, Kansas City International had to reimagine itself. The vision was clear: Become one of the nation's most affordable, centralized locations that allows travelers near and far to reach either coast within a mere four hours. The Kansas City Aviation Department established a Marketing Division and began an Air Service Development Program to work with existing and prospective airlines to "grow" Kansas City's air access to the US and beyond. Slowly but surely MCI bounced back.    
Over the years, as Kansas City grew into a world-class city, and Kansas City International grew with it. In late 1994, an entire north/south parallel runway was built, allowing for simultaneous operations that further reduced delays in the already virtually delay-free airport. And just two years later, a new control tower was added to keep up with the growing flight schedule and demands. The once 4,500-acre site began to grow to the 10,000-acre site it is today.
In the late 1990s the Aviation Department determined that the 1960s-era terminals were in need of updating. The $258-million Terminal Improvement Project (TIP) began in April 2001 with a full gutting of the three terminals in a phased approach to keep the terminal operational during the work. Just months later, on September 11, 2001, terrorists attacked the United States using its own aviation system. The attacks also created an urgent need to implement significant increases in security measures across the aviation system worldwide. In Kansas City this meant quickly learning the needs and implementing them into a terminal renovation already underway. Adjustments were made and the project was completed in April 2004. TIP brought new restaurants and shops, updated flight information displays, an upgraded HVAC system, new baggage claim devices, ground transportation kiosks, and new glass.
The terrorist attacks of September 11, 2001 impacted passenger usage and air service in Kansas City and throughout the world. The Aviation Department aggressively worked to regain lost air service. Slowly but surely market demand drove Kansas City's air service back up to exceed the highs of 1989. The Air Service Development effort is ongoing, as the Aviation Department strives to retain and grow access to the world for its citizens. On November 17, 2017, Kansas City residents voted to approve construction on the newest addition to its hometown airport. The biggest infrastructure project in the city's history will bring 39 new gates, 6,100 new parking spots, and a first-class traveler experience to local travelers and global visitors. Opened on February 28, 2023, the new terminal is meticulously designed for seamless travel from arrival to departure, giving locals and tourists alike a proper KC welcome. To explore more about the Grand Opening of the New Terminal, check out our magazine by clicking the image below.

Why MCI?
Kansas City International was originally called Mid-Continent International Airport, or MCI, so the International Air Transportation Association (IATA) adopted MCI as the airport's designator code. It's worth noting that U.S. airports cannot use codes beginning with N, K or W as the first letter of the prefix. N is the prefix reserved for aircraft, and K and W are reserved for radio call sign prefixes. For many years, MCI served as the landing strip for the TWA overhaul base and as an alternate airport for the old Kansas City Municipal Airport. When Municipal was deemed too small and unable to grow, terminals and additional runways were built at what is now Kansas City International. Municipal was renamed Kansas City Downtown Airport, and later Kansas City Wheeler Downtown Airport.
About The Kansas City Aviation Department
The Kansas City Aviation Department owns and operates Kansas City International Airport and Kansas City Wheeler Downtown Airport. The Aviation Department's mission is to provide outstanding airport services in a safe and cost-effective manner for the benefit of citizens, visitors, airlines and customers. The department is an enterprise fund department of the City of Kansas City, Missouri, and is supported wholly by airport user charges. No general tax fund revenues are used for the administration, promotion, operation or maintenance of the airports in the system. The department is led by Patrick Klein. To reach us by phone click here, or contact us online here.
Administration Division: Provides leadership and management oversight to the Aviation Department so that the delivery of safe, outstanding airport to citizens, travelers, airlines and all customers can be achieved through innovation, teamwork and continuous improvement. Manages long-term planning, finance and personnel requirements for Kansas City International Airport and the Charles B. Wheeler Downtown Airport. Prepares reports, planning documents and other statutory requirements as needed by the City of Kansas City, Missouri, Government, the Federal Aviation Administration, the Environmental Protection Agency and the Department of Homeland Security.

Aircraft Rescue & Fire Fighting: The Kansas City Fire Department's onsite Aircraft Rescue & Fire Fighting (ARFF) unit is responsible for all airfield-related fire and rescue operations at Kansas City International Airport and Charles B. Wheeler Downtown Airport. ARFF is a special category of firefighting that involves the response, hazard mitigation, evacuation and possible rescue of passengers and crew of an aircraft involved in an emergency. Airport firefighters have advanced training in the application of firefighting foams, dry chemical and clean agents used to extinguish burning aviation fuel in and around an aircraft in order to maintain a path for evacuating passengers to exit the fire hazard area. 

Airfield Operations Division: Maintains the safety and operational efficiency of the airfield in compliance with Federal Aviation Regulation Part 139, and serves as liaison for all KCI Airport tenants.

Airport Police Division: Provides protection and service to all persons and property within the jurisdictions of the Kansas City International Airport and Charles B. Wheeler Downtown Airport. Provides prompt assistance with and direction to the needs of the public and airport tenants through responsive and courteous interaction. Ensures the safe and orderly movement of traffic through effective direction and enforcement. Provides badging services to all airport employees and tenants through the ID Office. Regulates the operations of all taxi and limousine services. Provides additional informational and security related needs to the patrons, tenants and airport employees through the Airport Communications Center.

Bus Division: Provides safe and efficient bus transportation for the traveling public at KCI Airport. "Blue" buses shuttle passengers to/from the Economy Parking Lots. The "Red" buses transport travelers via a continuous circuit between Terminals B and C. 

Commercial Development Division: Solicits, develops, manages and administers programs to develop operating revenue for the Aviation Department. Revenue is raised through airline agreements, concessions, ground leases, farming programs, car rentals, hotels, ground transportation, parking, building leases, etc. Also ensures tenant and employee compliance with City rules, regulations and contractual requirement. Works to promote the safety of employees and airport patrons while on Department property. Certifies the use of best faith efforts to achieve City-wide goals for inclusions of disadvantaged/minority/women business enterprises (D/M/WBE) in Department contracts. 

Downtown Airport Division: Manages the day-to-day administrative, self-inspection, operations and maintenance functions of the General Aviation Reliever Airport to ensure continuous, all-weather safe and efficient operations of the airfield, terminals, hangars, fueling facilities, and public service functions of the airport in accordance with Federal certification requirements, City administrative directives, and Departmental policies. MKC offers aviators a 24-hour control tower, Category I Instrument Landing System, 24-hour fixed base operator (FBO), full aircraft maintenance, hangar facilities, air cargo facilities, aircraft sales, leasing and charters, flight training and car rentals. 

Environmental Division:  From air quality to storm water and all environmental disciplines in between, the Environmental Division ensures that the Aviation Department is in compliance with all local, state, and federal regulations. 

Engineering and Planning Division: Directs the planning and engineering of both KCI and Downtown Airports' activities. The division manages the planning, design, construction and other services essential to implement the airside and landside projects to meet the needs of the air traveling public. The division also coordinates and provides oversight to the Department's Capital Improvement Program (CIP), Master Plans, Part 150, and ALP updates. The division processes and monitors contracts to ensure adherence to federal, state and local regulations and provides technical and CADD assistance to support the Department functions.

Facilities Maintenance – Custodial Division: Provides customer service while working as a team to make the airport a better workplace and a clean safe environment for customers.

Facilities Maintenance – Structural Division: Provides customer service in the provision of utility service, structural and mechanical systems maintenance services in all City-owned structures at KCI. 

Field Maintenance Division: The Field Maintenance Division of the Aviation Department responsibilities include maintenance, repairs and construction to the airports' terminal exteriors, airfield, streets, exterior lighting, pavement markings, informational and regulatory signage, landscape, and storm drainage. It is responsible for maintenance and repairs to video security cameras and access control components, audio messaging, radio communication equipment, operation and functionality of security gates, all airfield lighting and signage, commercial power distribution equipment, and concrete and asphalt repairs. Responsible for coordinating with the Engineering Division on construction and improvements to ensure results are acceptable and sustainable from a maintenance aspect. The Field Maintenance Division, in conjunction with the Operations Division, is responsible for all airfield snow removal operations during emergency events. 

Finance and Accounting Division: Records all day-to-day accounting transactions, and prepares financial statements and miscellaneous reports as necessary.

Fleet Maintenance Division: Purchases, manages and maintains a fleet of 750+ vehicles and equipment. This includes fire and police vehicles, shuttle buses (both compressed natural gas and electric), work trucks, lawn maintenance, snow equipment, agricultural and construction equipment, and more for Kansas City International and Wheeler Downtown airports. The Fleet Division also licenses and titles vehicles, manages the fuel system and car wash services to enhance the day-to-day activities for the Aviation Department. The division ensures quality service and maintenance repairs are performed accurately and in an expeditious manner for the health, safety and welfare of employees. In 2016, Kansas City International Airport (MCI) was the first airport in the nation to incorporate electric transit buses into its fleet. MCI was also the first airport in the world to introduce inductive (wireless) charging and strives to go green wherever it can.

Human Resources Division: Provides a diverse, quality workforce by recruiting, retaining and training employees to better themselves and the organization. Responsible for creating, implementing and/or overseeing policies governing employee behavior and the behavior of the company toward its employees. Oversees all areas of Human Resource Management such as recruitment and retention, exit interviews, motivation, performance reviews, training, professional development, mediation, benefits and retirement. Strives to provide customers with excellent service and assist them with their personnel needs. 

Information Technology Division: Supplies the Aviation Department, airlines and passengers, with technology services that are available, reliable and appropriate for the intended business purpose.

Marketing Division: Strives to increase demand for commercial air service and general aviation for Kansas City International Airport and Charles B. Wheeler Downtown Airport. This division promotes both airports' services and facilities to existing and potential tenants, including passenger and air cargo carriers, the general public and any other business entity that may directly benefit from utilizing the airport system. Some issues covered by the division include: air service development, marketing and communications planning, public affairs, customer service, branding and creative services, events and volunteers.

Parking Division: Provides airport parking services for the visitors, airlines and customers of KCI. Ensures the accurate and efficient collection of parking lot revenue through the use of a parking lot contract operation. Manages a frequent parker program and automated pay lanes. Public lot areas include Economy Parking, Circle Parking, Garage Parking and Park Air Express.
Historic Timeline of Kansas City International Airport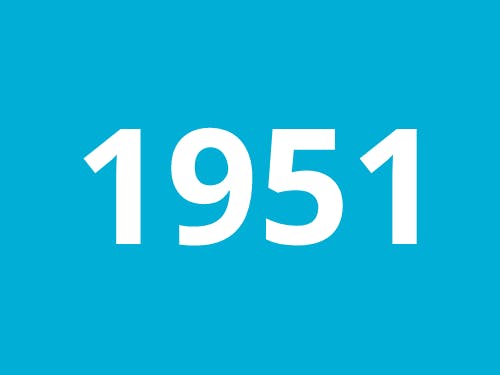 Little known to most, the Great Flood of 1951 helped set in motion the development of the Kansas City International site we know today.
TWA, the largest air carrier at the time in KC, considered moving after the flood – prompting the city to search for a new site.